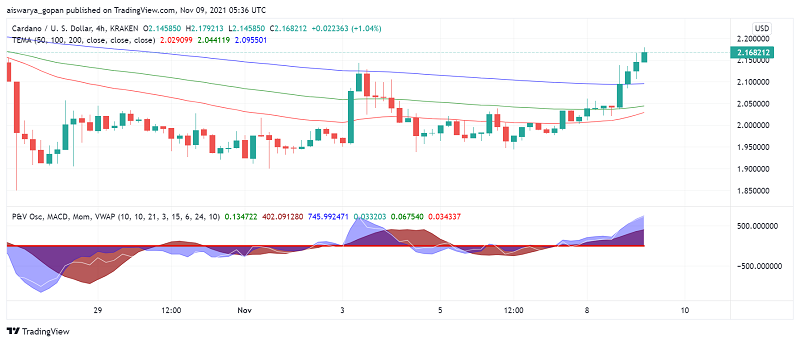 Are Buyers Getting Back Into Cardano (ADA)?
Cardano (ADA) seems to be experiencing somewhat of a revival after trading choppy through most of the previous week, and it looks like investors are gradually reacting to news of rising adoption of the blockchain among projects lately. At the time of writing, ADA/USD is trading at around $2.16.
Last week saw the potential Ethereum killer losing its position in rankings by market capitalization to another key rival, Solana, which has been climbing the charts. With the optimism surrounding its major network upgrade from September fading, the cryptocurrency has slipped from the third position and now sits at six based on its market cap.
However, experts are not quick to dismiss its potential just yet, maintaining that its growing list of strategic partnerships and use cases going beyond DeFi and NFT are sure to propel its adoption and value higher in the coming months. Its Co-founder Charles Hoskinson certainly seems optimistic about its potential for growth in the future, with IOHK now focusing its efforts on developing a Layer 2 scaling solution for the blockchain, titled Hydra. Anticipating explosive uptick in its adoption, Hoskinson believes that Hydra can bring much needed scalability to the network which recently rolled out smart contract capabilities and is gearing up to battle it out with Ethereum and its rivals in the DeFi and NFT space.
Latest Fundamental Developments in Cardano's Ecosystem
Recently, Cardano Project Catalyst released the results of Fund6 vote, selecting the top 20 projects from over 100 submissions, which will receive $4 million worth of funding for development. The top three voted projects are: Software as a Service for Cardano, Plutus PAB Typescript SDK and Gravatar for ADA Wallets.
Meanwhile, decentralized lending protocol on Cardano, ADALend, has made it to the list of IOHK's Essential Cardaon List of projects. ADALend has the potential to drive growth in ADA's value, especially as it has announced plans to start developing cross-platform integrations which can increase its scope of operations significantly.
Another promising development is decentralized launchpad for Cardano, Occam.fi, and SwissBorg gearing up to list the OCC token for trading on the SwissBorg app. As one of the leading crypto apps for European users, listing of the OCC token can drive increased participation and liquidity in Occam.fi's ecosystem, which in turn could drive more use for the Cardano blockchain and support ADA.
ADA/USD Technical Analysis
Popular crypto traders are also anticipating a potential breakout in ADA in the current cycle after several weeks of weak price action. One pseudonymous influencer and trader, Capo, expects Cardano's price to shoot as high as $10, which would be a 400% rally. Another leading crypto analyst Raoul Pal expects a super-explosive rally in Cardano this cycle, powered by rising network adoption.
On the 4-hour chart of ADA/USD, moving averages and the MACD are suggesting a strong bullish bias. However, the momentum indicator points to some interest among sellers as well.
Cardano's price is holding above the pivot point at $2.02 and buyers have broken past the first resistance level at $2.14. More buying pressure can see ADA head higher until buyers encounter the next resistance at $2.26.