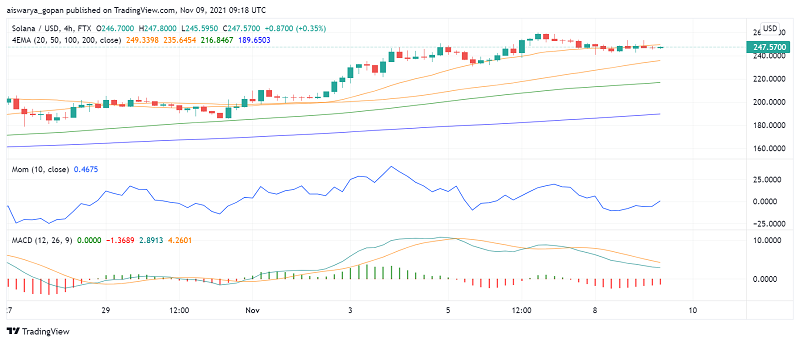 Solana (SOL) Makes Muted Moves Ahead of Upcoming Bull Cycle
Solana (SOL) is making small gains into Tuesday but enjoys the support of rising adoption among projects and an uptick in investor interest, both of which are likely to extend the rally in one of the most exciting cryptocurrencies for this year. At the time of writing, SOL/USD is trading around $247.57.
Late last week, Solana Ventures in association with FTX and Lightspeed Ventures launched a $100 million fund focused on developing blockchain gaming studio businesses. The GameFi ecosystem fund is a clear indication that the blockchain is planning to invest heavily in developing gaming opportunities and use cases, which could add on more users and drive up on-chain activity significantly.
Other exciting developments in the Solana ecosystem come from increased adoption of its technology by projects. One such instance that offers a lot of promise is OTOY's plans to develop an open cloud-based metaverse via the Render Network. Render Network's integration into the Solana ecosystem and partnership with NFT minting platform Metalplex could give a solid boost to the NFT space and further support the SOL token's price.
At the Breakpoint conference in Lisbon, the ultra-fast blockchain network also shared a major announcement of privacy-focused browser Brave integrating with Solana. This development will open up access to Solana-based dApps on Brave even as the browser's native token BAT will be promoted by the blockchain among its dApp users.
Meanwhile, the first US-based DEX for Solana, Solar, is gearing up to launch its native token soon. What makes it exciting is that it promises to be a unique token working along with lobbyists and politicians to convince regulators about the safety that DeFi offers for investors. The Solar DEX aims to eliminate rug pulls entirely via the incorporation of automatic liquidity locks built into the exchange, encouraging investors and regulators to feel confident about the overall DeFi landscape.
SOL/USD Technical Analysis
Crypto influencer Raoul Pal anticipates price action in Solana to follow the first bull cycle seen in Ethereum. This means it could be getting ready for a leg higher soon.
Technical analysis of the 4-hour price chart of SOL/USD reveals a bullish bias among most moving averages as well as the momentum indicator. Although, the MACD suggests some presence of sellers in the market.
Solana's price is holding above the pivot point at $235.84 but is below the immediate resistance at $273.92. Pay attention to the price action as it heads higher amid increased buying pressure.