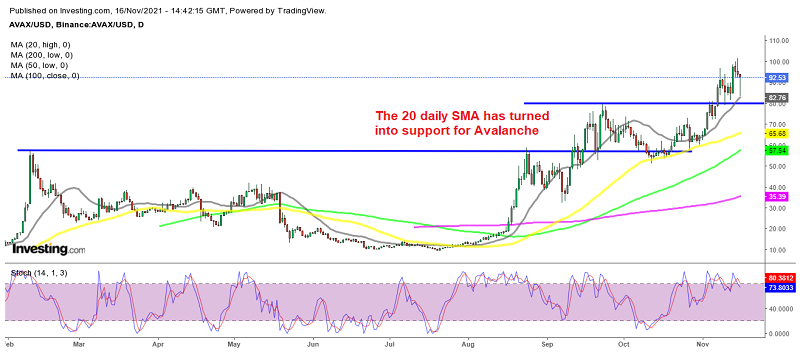 Buy Avalanche (AVAX) Crypto And Litecoin (LTC) As They Remain Bullish
The retreat in the cryptocurrency market has accelerated in the last two days, after the strong bullish momentum early last week, which pushed cryptos to some record highs. Certain cryptocurrencies have lost 20% of the value so far this week, while some remain stronger than others and are holding on better. Avalanche and Litecoin are among these cryptocurrencies, which look very tempting to buy since they declined less and are brushing off the losses pretty fast.
Avalanche Daily Chart Analysis – The 20 SMA Holds the Decline
Avalanche has been quite strong since August and has been among the most bullish cryptos in the last week or so. It has been making gains higher even though the market has been retreating lower. Just yesterday we saw a new high in Avalanche as it peaked above $100 for the first time ever.
So, the bullish trend is undisputed for Avalanche, which considers itself as the fastest platform for smart contracts in the blockchain industry. Tether Operations Limited announced that Tether (USDT) tokens are making their way to the decentralized finance platform Avalanche. This is positive news for Avalanche and Tether.
Besides that, the launch of a new $220 million boost for the development of its ecosystem with the Blizzard Fund will help the AVAX tokens rise further. So, everything is looking bright for Avalanche, and today's retreat in AVAX/USD have almost been brushed off, which shows strength in this crypto and we might open a buy trade here soon.
Litecoin Daily Chart Analysis – LTC Deciding at the Support Zone
Will the support hold for Litecoin?
Litecoin partnering with Visa for the Litecoin Visa debit card was a positive event, which improved the sentiment for LTC/USD , as it climbed from $200 to almost $300 earlier this month. Litecoin held the gains this time, while most of the market was retreating lower last week, and it even climbed higher over the weekend.
But, the sudden reversal of the last two days pulled this cryptocurrency down with it. Litecoin fell to $220s, but it has pulled back up a little and is trading around $235, where the resistance zone stands. Now, Litecoin traders are trying to decide whether to push the price above this level, which would bring us back into the bullish zone, or let it slip below that level which would send Litecoin in the neutral zone until $200. For me, this looks like a good opportunity to buy Litecoin, although I would like to see a bullish reversing signal before pulling the trigger.