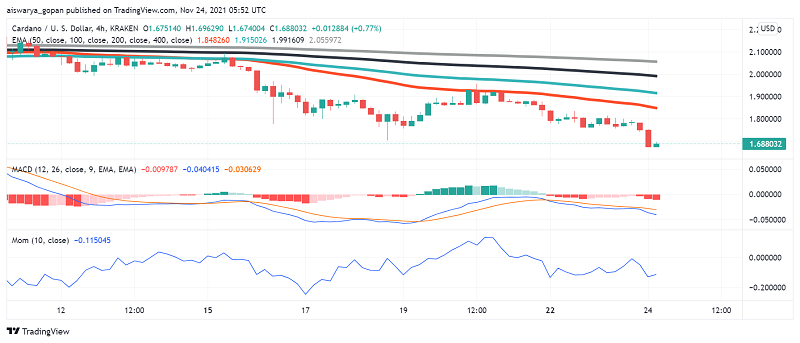 Cardano (ADA) Gets Another Blow After eToro Announces Its Delisting
The wider crypto sector may be turning around from trading bearish and making slight gains into Wednesday, but one leading cryptocurrency that continues to trade in the red is Cardano (ADA). At the time of writing, ADA/USD is trading around $1.68.
eToro Shocks Crypto Markets by Delisting Cardano's ADA
While most of its peers are slowly reversing their losses as market leader Bitcoin climbs higher cautiously, Cardano was hit by the announcement from leading social trading platform eToro in the previous session. eToro announced its decision to delist ADA from its platform for US customers starting in 2022.
In an announcement made on Tuesday, one of the largest crypto trading platforms eToro stated that its US-based users will no longer be able to open new positions or stake ADA and TRX tokens on the platform, citing regulatory concerns as the reason for undertaking this decision. Users' wallets will only be able to withdraw these two tokens until Q1 2022 when selling will also be restricted.
The announcement took markets by surprise even as the cryptocurrency has been trading weak over the past couple of months and seeing very limited price action as a result . As we reported yesterday, we were hoping for a turnaround in investor sentiment towards the coin with the upcoming Cardano360 event scheduled for Thursday.
Following the announcement by eToro, Cardano's Co-founder Charles Hoskinson tried to do some damage control by posting an update on YouTube . He clarified that neither the Cardano Foundation nor IOHK had been under any form of regulatory scrutiny and that the platform's decision to delist the token was the result of lack of regulatory clarity around crypto assets in general. He also went on to state that Cardano's native token enjoys high levels of liquidity and that it did not see a very significant amount of trading volume on the Ito platform for users to be concerned about its delisting.
On a more positive note, Cardano announced that it was going to increase its block size from 8KB to 72KB, which would fit more transactions into a block and give the blockchain higher transaction handling capacity or throughput. Another promising upcoming change is the increase of its Plutus script memory units per transaction to 11.25 million. Higher memory limits on Plutus will give dApp developers the ability to increase the capabilities and sophistication of their scripts.
ADA/USD Technical Analysis
On the 4-hour price chart of ADA/USD, we find an extremely bearish bias among moving averages and the MACD. However, the momentum indicator suggests some interest among buyers as well.
Cardano's price is well below the pivot point at $1.87 and it looks like it could soon test the immediate support at $1.66. A break of this level opens the door to more downside, with ADA likely to crash under the $1.50 level until it finds support at $1.48.