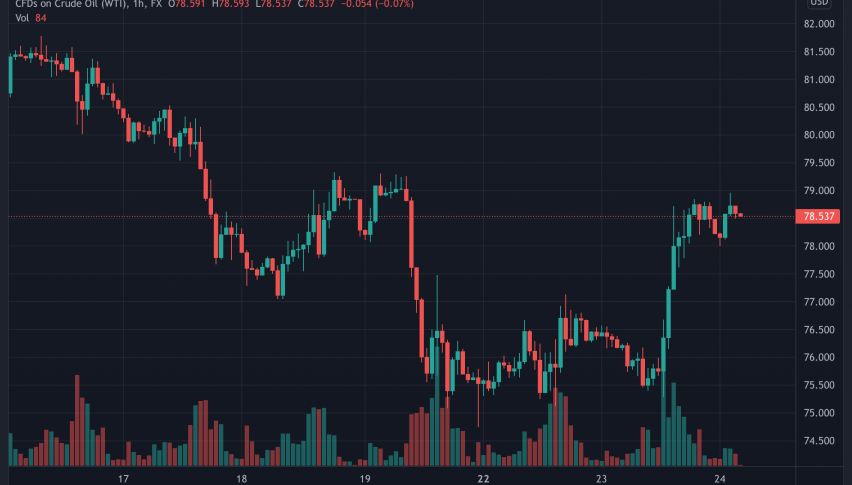 WTI Crude Oil Eases Lower as US Releases SPRs
WTI crude oil prices slide lowerWTI crude oil prices slide lower into Wednesday after US's decision to tap into strategic petroleum reserves offset the tight supply in global oil markets even as traders indulged in profit-taking ahead of the upcoming Thanksgiving holiday. At the time of writing, WTI crude oil is trading at around $78.53 per barrel.
During the previous session, WTI oil gained as much as 2.3%, ending the second consecutive session so far this week in the green. The rally came as a surprise as it went against the fundamental developments, such as easing supply woes and a build in crude stockpiles.
According to the API report released in the previous session, the US saw its crude inventories rise by 2.3 million barrels over the past week, against economists' forecast for a 950k barrel drawdown instead. Despite the latest build-up, crude stockpiles in the world's largest energy consumer remain 57 million barrels lower than they were at the beginning of 2021.
 
Meanwhile, oil markets received quite the surprise when the US announced its decision to coordinate with China, India, South Korea, Japan and Britain to release millions of barrels of oil from strategic reserves to bring down oil prices. All leading energy consumers, the nations' move will offset the soaring commodity prices with OPEC and its allies raising crude production at a gradual level even as demand sees a sharp uptick in these markets.
This move is likely to increase oil supply in the market by around 70-80 million barrels, as per analyst estimates. However, the figure comes in lower than original expectations for a build of 100 million barrels, probably the reason for crude oil prices to be on the rise despite the announcement of increased supply.