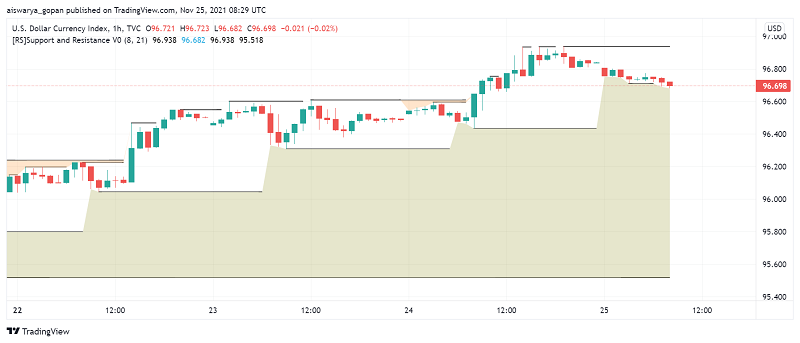 US Dollar Rises as Fed Policymakers Keen on Speeding Up Taper Process
The US dollar enjoys strength into Thursday, powered by rising expectations for the Fed to be one of the first major central banks to hike interest rates post the COVID-19 pandemic as the US economy posts a rapid rebound. At the time of writing, the US dollar index DXY is trading around 96.69.
Against the common currency Euro, the greenback is trading at the highest levels seen in over a year, while it has strengthened to an almost five-year high against leading safe haven currency Japanese yen. In the previous session, the dollar index surged to a high of 96.938, last seen in July 2020, although it has since eased slightly lower.
The bullish moves in the US dollar came even as several Fed policymakers hinted at their interest in implementing a faster rate hike and monetary tightening. The expectations were further reinforced after US President Joe Biden reappointed Jerome Powell as the Fed Chairman for another four years, over a more dovish candidate, Lael Brainard.
During the previous session, San Francisco Fed President Mary Daly also expressed support for the US central bank to speed up its asset purchase program. She indicated that she was open to the idea on the back of the strong economic data coming out of the US lately but wanted more reports on inflation and hiring before making the decision.
With the US markets closed for Thanksgiving, we can expect muted moves in the US dollar today. However, later in the day, there could some price action in EUR/USD on the release of minutes from the latest ECB monetary policy meeting.