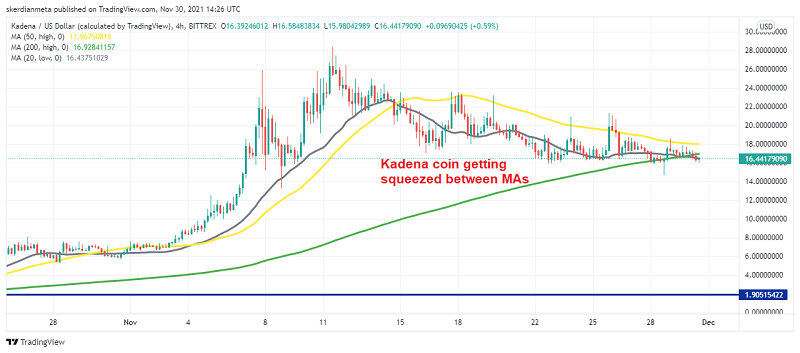 Kadena (KDA) About to Explode, Binance Coin (BNB) Continues the Uptrend Toward $700
The cryptocurrency market has been giving us some decent bullish signals in the last several days. Cryptocurrencies turned bearish this month, after a very strong month in October, but it seems like the pullback might have come to an end now, as they have been gaining for three days in a row. So, let's have a look at where the Kadena (KDA) and Binance (BNB) coins stand now.
Kadena H4 Chart Analysis – MAs Squeezing KDA Before the Explosion
Kadena was trading at around $2 in October, before it started to take off, initially reaching $8 and then surging to $28.50 early this month, as the sentiment in the crypto market was quite positive. This means that KDA appreciated more than 10 times in just a few weeks, as the  24-hour trading volume surged from a daily average of $3 million to more than $345 million.
KDA launched a wrapped version of the KDA token, called wKDA, operating on the Ethereum network. It allows interaction with all the decentralized finance (DeFi) protocols on the Ethereum network. The addition of NFT capabilities to the network also improved the sentiment further for KDA back then.
KDA/USD has retreated off the highs, giving back around half of the value, as it keeps trading between the 50 SMA (yellow) at the top and the 100 SMA (green) at the bottom. Now, the retreat to the 50% Fibonacci level is complete and the bias remains to the upside for this crypto, as fundamentals remain strong, so we expect a breakout to the upside and a continuation of the bullish trend.
Binance H4 Chart Analysis – MAs Squeezing KDA Before the Explosion
Binance coin trending toward the all-time high below $700
The Binance exchange has seen increased pressure from governments and regulators around the globe, after it fled China, as part of the crackdown there. Binance has been banned from a number of countries and is under investigation in others, but the BNB coin hasn't minded much. It has continued higher and is currently on an uptrend.
While the cryptocurrency market has been bearish this month, Binance coin has kept the bullish momentum, pushing higher. Now it is trading at $620, with a bullish bias. Binance CEO Changpeng "CZ" Zhao, who is looking for partnerships with sovereign funds, said yesterday that "the investments from sovereign wealth funds would help improve the perception and relationships with various governments". They are also buying headoffice premises in Ireland, so the situation appears to be stabilizing after the mounting pressure from regulators. This will keep the BNB coin bullish, and we think that it might even make new highs before the end of the year.
Cryptocurrencies were showing strong bullish pressure in the first two months of 2023, but the bullish momentum has faded
7 months ago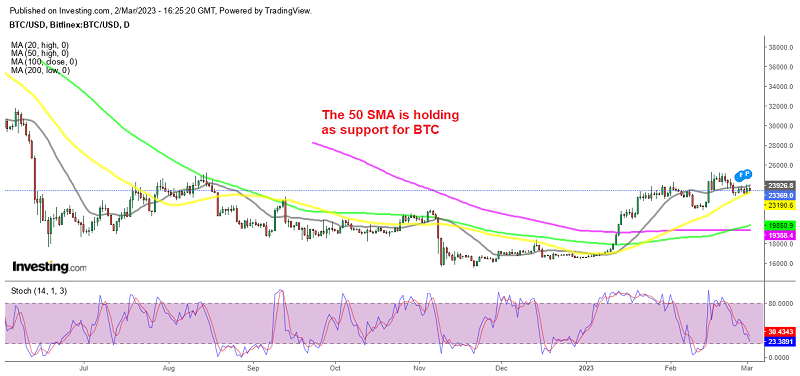 7 months ago