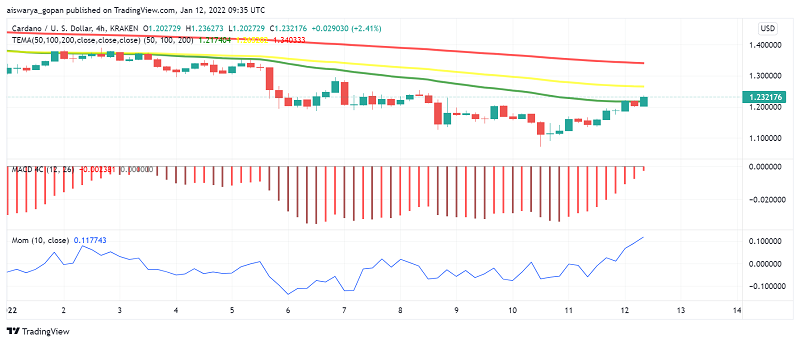 Cardano (ADA) Bounces From Lows Around $1.20: Good Time to Buy?
Cardano (ADA) is seeing some buying activity after its price crashed to the $1.20 level but interest in the cryptocurrency remains weak amid the overall sluggishness in the market, keeping investors wary of being too active lately. At the time of writing, ADA/USD is trading at around $1.23.
Although its weak price action over the past few months have convinced many experts to write off Cardano, causing it to slide from a high ranking of number three in terms of market capitalization, its ecosystem is well and truly flourishing – an undeniable sign of faith in the blockchain among users and projects. Since the beginning of this year, the number of GitHub commits in Cardano has been steadily increasing, especially after IOHK – the firm behind the blockchain's development, revealed its roadmap of updates expected in the coming months.
In 2021, the blockchain held the unique distinction of being the most developed asset, well above market leader Ethereum. With more dApps going live in the coming weeks and months, the development activity on Cardano's blockchain will increase further, driving up the value of the ADA token in the medium to long term.
An Update on Latest Fundamental Developments in Cardano's Ecosystem
In terms of supporting fundamentals, one promising development is Cardano's native DEX Ravendex getting ready to raise funds via a new method – ISPO, which will let delegators in the PoS network to divert staking rewards to a project of their choice to receive its tokens in return. The unique model which currently exists only on Cardano's network is sure to keep an eye on.
With regards to its commitment to the environment, the blockchain has recently achieved two major milestones. The Cardano Group concluded its acquisition of sustainable investment manager ACTIAM which focuses on impact investing. In addition, the Cardano Foundation's partnership with veritree to plant one million trees has achieved 100% funding and is all set to get started with tackling deforestation in Kenya.
However, the ADA token could face some pressure to the downside after leading crypto exchange Coinbase disabled sending and receiving the token on its platform since January 7. As one of the largest exchanges, this issue has caused a considerable dip in Cardano's trading volume and could exert more bearish pressure on it.
ADA/USD Technical Analysis
Technical analysis of the H4 price chart of ADA/USD reveals a strong bullish bias among most moving averages as well as leading technical indicators MACD and momentum. However, the 100 EMA and 200 EMA suggest some presence of sellers in the market too.
Cardano's price has crossed the pivot point at $1.22 and now it's time to see if buying pressure can sustain to keep the price above it. If so, we could keep an eye on the price action to see if the immediate resistance at $1.32 is shattered by buyers.