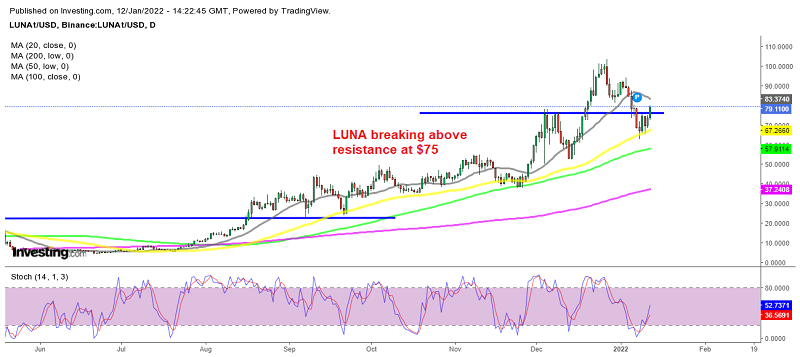 Terra LUNA, Avalanche (AVAX) Cryptos Bounce Off Support. Is the Uptrend On?
Earlier this week, the cryptocurrency market resumed the bearish trend that has been going on for two months, as Bitcoin fell below $40,000. The decline had stalled for about a month,and most cryptocurrencies were consolidating within a range, but the decline resumed again this week. Although, the week is now turning bullish, as cryptocurrencies have been reversing higher in the last two days. Terra LUNA and Avalanche cryptos have been making some decent gains, bouncing off support, and they might be resuming the bullish trend.
Terra Daily Chart Analysis – LUNA Finding Support at the 50 SMA
The Terra network is one of the most promising DeFi blockchains, which is becoming the second-largest network after Ethereum, in terms of the total value locked (TVL). DeFi projects on this blockchain are growing, and applications, such as Anchor and Mirror, let you earn 20% to 40% by staking or saving Terra's native stablecoin UST.
The increased interest has been keeping the LUNA coin bullish since August last year, and it has made new highs, even during the last two months, while the crypto market has been in retreat mode. Moving averages have been doing a great job as support during pullbacks, particularly the 50 SMA (yellow) which held the retreat of the last two weeks as well. Now the previous resistance around $75 has been broken, so LUNA/USD is resuming the uptrend again. We mentioned earlier that the 50 daily SMA was a good place to look for longs, so here goes the reversal.
Avalanche Daily Chart Analysis – AVAX Finding Support at $80
Avalanche is another promising DeFi blockchain, in which we saw the TVL increase last week, even though the TVL was declining for most blockchains. News that Avalanche was adding the USD Coin (USDC), while BitGo was adding Avalanche support, helped improve the sentiment for AVAX/USD.
Avalanche facing the resistance at $100 now
This coin kept surging, even during most of November, when the market was retreating, although the bearish momentum in the crypto market caught up with it, and we have seen the price retreat lower. But the previous resistance area around $80 has turned into support, helped by the 100 SMA as well. In the second half of December, we saw a bounce off that zone, but the price retreated back to it.
In the last two days, we have seen Avalanche reverse higher again, so the support is holding, and now buyers are taking charge, as the sentiment improves in the market. The $40,000 level held in Bitcoin, which means that chances are that the bullish trend in the crypto market will resume now.