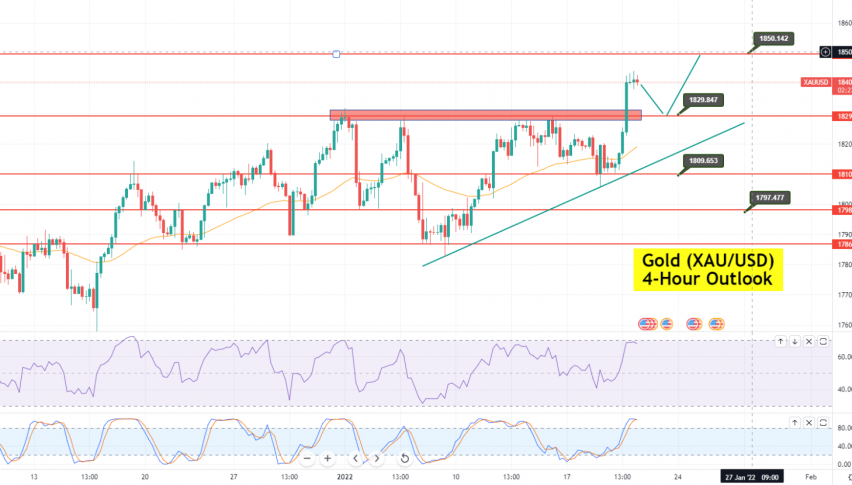 Gold skyrockets to $1,840 – Boosted safe-haven appeal in Play
Posted Thursday, January 20, 2022 by
Arslan Butt
• 2 min read
Gold gained more than 1% on Wednesday, as the dollar fell and geopolitical tensions in Ukraine boosted the attractiveness of safe-haven gold, spurring a rally in precious metals. According to Citi Research, palladium led the gains, rising as much as 7%. They stated in a report that a gradual recovery in the global automotive output should support demand for the auto-catalyst metal this year. It was the last trading at $2,006.20 per ounce, representing an increase of 5.7 percent.
A drop in the value of the dollar (DXY) made bullion more affordable for buyers holding other currencies, while a drop in the benchmark 10-year Treasury yields, from a two-year high, boosted the demand for the metal. Expectations that the Fed will tighten monetary policy as early as March have weighed on bullion this year, as higher interest rates raise the opportunity cost of holding gold.
According to Moya, gold may also be benefitng from geopolitical tensions in Ukraine and the Middle East. On Wednesday, US President Joe Biden warned that Russia could move against Ukraine, saying that a full-scale invasion would be costly, while a "small incursion" would be less expensive.
At a White House news conference, Biden's comments raised questions regarding how the West would react if Russian President Vladimir Putin intended to invade Ukraine. He said the White House would be forced to seek clarification. Russian leaders have consistently denied having any intention to invade, but the Kremlin has amassed 100,000 troops along the Ukrainian borders. The West claims that this buildup is in preparation for a conflict, to prevent Ukraine from ever joining NATO's Western Security Alliance.
Immediately after the conclusion of the  press briefing, which lasted nearly two hours, the White House emphasized that any Russian military action in Ukraine would be met with harsh retaliation. As a result, the demand for safe-haven gold is increasing.

Gold (XAU/USD) – A Technical Outlook
On Thursday, the precious metal, gold, is trading at the 1,840 level, with a strong bullish bias. It has violated a significant triple top resistance at 1,829 and is heading towards the next target level of 1,850. On the higher side, the XAU/USD may find the next significant resistance at the 1,865 level.
Daily Technical Levels
Support               Resistance
1,817.80              1,852.15
1,796.45              1,865.15
1,783.45              1,886.50
Pivot Point:        1,830.80
On the lower side, the support continues to hold around the 1,829 level, and a breakout here could lead gold towards 1,809. Consider taking a buy trade over the 1,829 level today. Good luck!