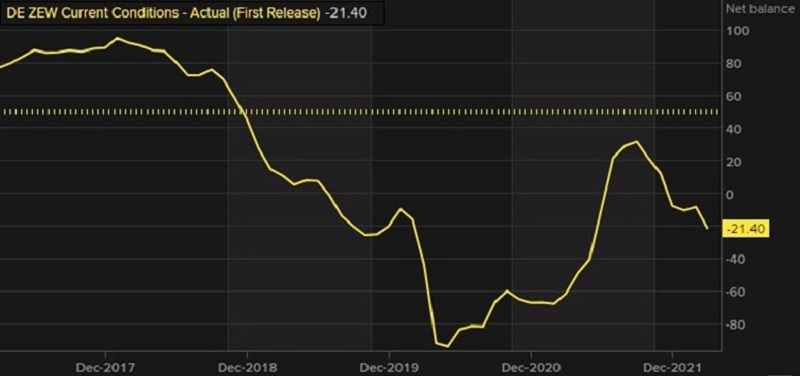 EUR/USD Continues the Downtrend, as Economic Sentiment Dives in Europe
Europe is facing another major issue right after the coronavirus. The conflict in Ukraine is affecting the Eurozone most of all, which explains the reluctance of the block to follow up with the same measures as the US, regarding sanctions on Russia. Russia is one of the major producers of everything, from raw materials, to minerals, to oil and gas.
Europe on the other hand, together with China, is one of the biggest consumers of such products, which leaves Europe very vulnerable to Russia. Large quantities of Europe's gas and oil come from Russia, so Europe is in no position to sanction Russia, hence the EU leaving the door open for oil and gas imports from Russia. Crude oil headed towards $100 yesterday, after that move.
So, the sentiment in Europe has been damaged the most, from the perspectives of both the investor and the consumer. Investor confidence tumbled to negative levels last week, while today's ZEW economic sentiment also dived from around 50 points to -40 points.
Germany, March ZEW Survey
March ZEW survey current conditions -21.4 points vs -22.5 expected
February current conditions were -8.1 points
Expectations -39.3 points vs 10.0 expected
Prior 54.3 points
That's a poor reading, but it was more or less expected, though the outlook reading shows a marked deterioration in the sentiment. The Russia-Ukraine situation is largely to blame, with inflation worries surging, and this is likely to cripple consumption activity.
EUR/USD Daily Chart – 1.11 Has Turned Into Resistance
MAs have turned into resistance for EUR/USD  
EUR/USD has been bearish since last summer, falling to 1.11, but in February this year, we saw a decent retrace higher, as the ECB stood its course in tightening the monetary policy, despite the conflict in Ukraine and global tensions. But the bullish momentum and EUR/USD resumed the downtrend, accelerating the decline and falling below 1.10.
Expects stagflation in the coming months
Collapsing economic expectations are accompanied by an extreme rise in

inflation

 expectations
Impact is seen across all sectors of the German economy
Even more so in energy-intensive sectors and the financial sector
Well, I don't think there's much there that we don't already know. The Euro slumped as a result of the whole Russia-Ukraine ordeal, in a drop from 1.14 to 1.08 against the dollar. The only comfort is that there aren't any real sanctions from Europe on Russian energy. At this point, consumption activity is already going to be hit really hard. So, one can just imagine the consequences.