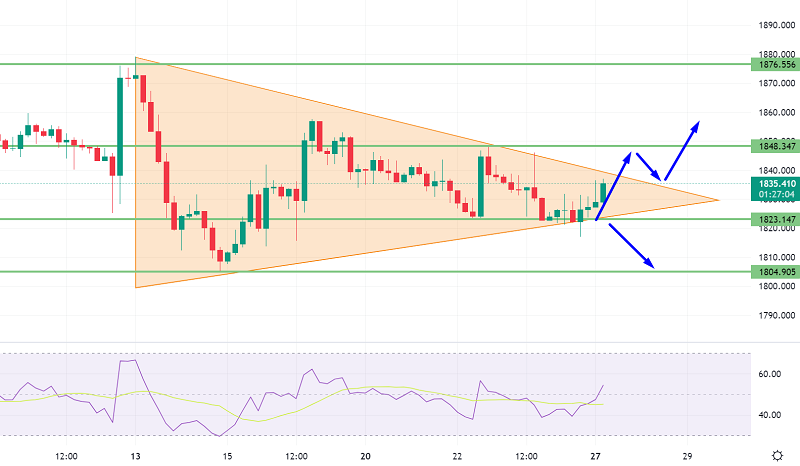 Gold Bounces-off $1,820 Support Zone – Quick Daily Outlook
The gold price fluctuated within a range of $1,821.88-1,835.00. Investors anticipate a decisive move in the precious metal as they await US Durable Goods Orders data. The market consensus predicts that the data will decrease to 0.1 percent from the previous reading of 0.5 percent.
A significant decline in economic data is anticipated to support gold prices in the future. However, the economic data directly correlates with the US economy's aggregate demand. For instance, an increase in Durable Goods Orders indicates that domestic demand is resilient. However, the lower estimates for economic data may result from soaring inflation, harming household income and demand for Durable Goods.
Notable is the fact that the Purchase Managers Index (PMI) for the US economy was below 50. Both the Manufacturing and Services PMIs exhibited a precarious performance. Therefore, the pessimistic forecasts for Durable Goods Orders following a weak PMI may have a significant negative impact on the US dollar index (DXY). However, the DXY remained lackluster last week and is anticipated to perform poorly due to the persistently negative economic data.
Gold Technical Outlook
The gold XAU/USD price continues to decline measuredly, gradually approaching our first support level at 1810.00 to maintain the bearish trend scenario while awaiting further decline to reach 1780.25 as the next support zone.
In general, we will continue to recommend the bullish trend, supported by the 50-period EMA, extending support to near $1,822. However, we may not see a full-fledged buying unless the price rallies to surpass 1850.00 and hold above.