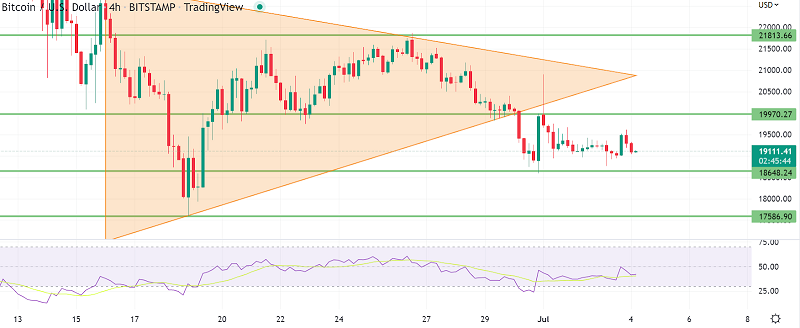 Bitcoin at Standstill Near $19,000 – Quick Trade Plan Today
Bitcoin has been highly unstable recently, with the king coin losing 7% in the last week. This is the worst quarter for Bitcoin, which lost nearly 50% in the second quarter of this year. After June, the cryptocurrency experienced the most severe bearish price action.
BTC has recently fallen under the $20,000 mark, reaching $19,000. A sustained drop on the chart could push BTC to the following support line. Over the last 24 hours, buying strength has weakened significantly, trying to push BITCOIN to lower levels.
The bulls attempted to resurrect the coin on the chart and drag it towards $22,000, but an intense sell-off dragged it down to $19,000. The coin's critical support level was $17,000, and as bears pounced harder, the level above could be a potential for BTC in the coming trading sessions. The global cryptocurrency market cap is now $914 billion, up 0.3 percent in the last 24 hours.
Bitcoin Technical Analysis
On the four-hour chart, BTC was trading for $19,000. The BTC/USD pair traded at the same level a few weeks ago before attempting to recover on the chart. BTC encountered resistance at $20,000 and then at $22,000.
BTC has encountered stiff resistance at $22,000, with the coin struggling to trade above the level for an extended period of time. If BTC's current price momentum continues, $17,000 will be reached in no time.
The trading volume of BTC/USD decreased significantly, and the bar on the chart was red, indicating bearishness. The market had been dominated by selling pressure. So let's keep an eye on 19,900 for a sell trade. Good luck!