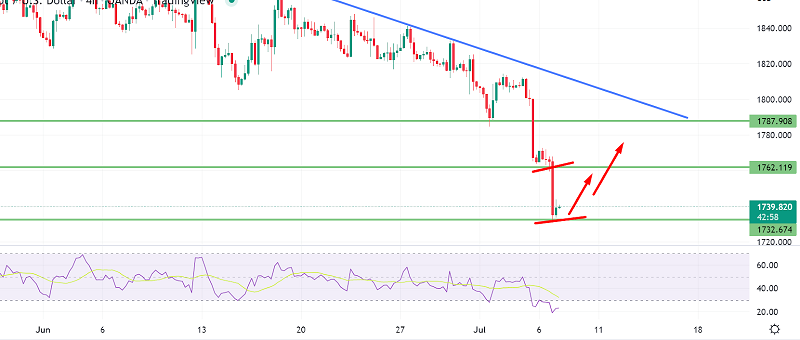 Risk-on Sentiment Continues to Drive Sell-off in Gold – What's Next?
After a sharp drop to near $1,732.00 in the New York session, the gold price has entered a consolidation phase. On a broader level, the precious metal is in the grip of bears and has the potential to fall if it breaches the critical support level of $1,730.00.
The precious metal GOLD is attracting bids as the Federal Open Market Committee (FOMC) minutes released on Wednesday breathed new life into the US dollar index (DXY). The minutes were extremely hawkish, with only one FOMC member voting against raising interest rates by 75 basis points (bps). Likewise, the Federal Reserve (Fed) is "unintentionally committed" to achieving price stability and will raise interest rates to the same extent if high inflation persists.
The DXY has reclaimed its 19-year high of 107.26, and more gains are expected ahead of the US Nonfarm Payrolls report (NFP). The preliminary estimate for economic data is 270k, which is lower than the previous print of 390k. The focus of today's session will be on the Automatic Data Processing (ADP) Employment Change, which may rise to 200k from the previous print of 128k.
Gold Technical Outlook
Since this morning, the gold price has been hovering around the 1765.00 level, waiting to resume negative trades that target 1750.00 as the next main station.
Stochastic positivity interprets the reasons for the current sideways fluctuation, while the continuation of the bearish wave is dependent on price stability below 1780.25.
Today's trading range is expected to be between 1750.00 support and 1785.00 resistance.
Today's expected trend is bearish.