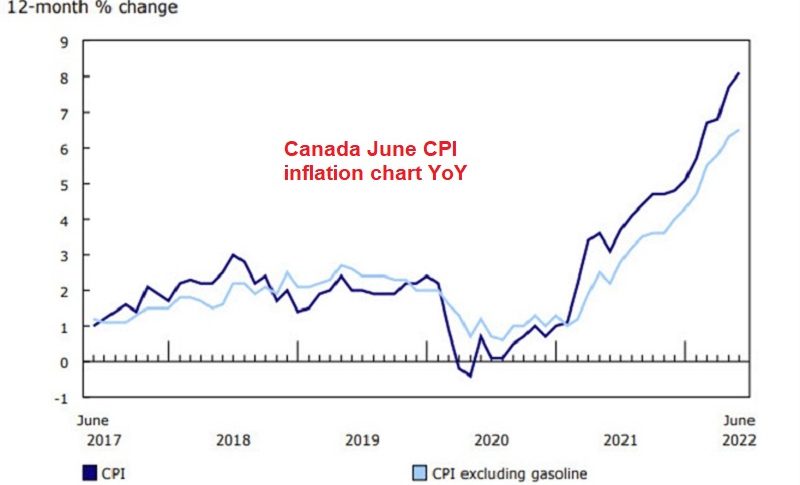 Canada Inflation Reaches 40-Year High, USD/CAD Stops at the 50 SMA
Inflation has been increasing everywhere, which increases the cost of living. Canada has been a bit behind in this regard, but inflation is catching up with the US. CPI annualized inflation increased to 8.1% last month according to Statistics Canada, which is the fastest increase in the cost of living in nearly four decades.
Petrol was the biggest single contributor to the overall rate going up, as pump prices were up by 54.6% compared to the same month a year ago. If petrol is removed out, the inflation rate would be at 6.5%. Another major factor for inflation have been food prices, which rose by 8.8% in the past year.
The 50 SMA acting as support again
That's the same pace of increase seen the previous month, but economist Tu Nguyen with HR consultancy RSM Canada says it's too soon to conclude that food prices may have reached a peak. "Part of that can be attributed to the fact that Canada consumes more domestically grown food in the summer, which helps keep costs down," she said, so we might see an increase as we head to winter.
 Canada CPI Inflation Report for June
Canada June CPI YoY+8.1% +% vs +8.4% expected
The largest increase since 1983
May CPI was 7.7%
CPI MoM for June +0.7% vs +0.9% expected
Prior CPI MoM reading was +1.4%
CPI excluding gasoline Yoy +6.5% vs +6.3% prior
Gasoline prices +6.2% vs +12.0% in May
Average hourly wages YoY +5.2% vs +3.9% prior
Energy prices +38.8% vs +34.8% prior
Shelter costs +7.1% vs +7.4% prior
Services YoY +5.2% vs +5.2%
Core Inflation Measures:
BOC core CPI YoY 6.2% vs 6.1% prior
Median CPI 4.9% vs 4.9% prior
Trimmed mean CPI  5.5% vs 5.4% prior
Common CPI 4.6% vs 4.2% expected (3.9% prior)
Canadian PPI Data
Producer prices MoM -1.1% vs +1.8% prior
Producer prices YoY +14.3% vs +15.0% prior (revised to 15.7%)
The Canadian dollar is a bit lower on this report but it comes at the same time as a dip in oil prices. However, with gasoline prices down around 10% in July, a negative reading is brewing this month and that could lead the BOC to signal that it sees the finish line. Currently, the market is pricing in 3.61% at year-end from 2.50% now. That may be too aggressive if inflation slows.
USD/CAD has bounced higher today off MAs, s inflation started to cool in Canada in August
2 weeks ago