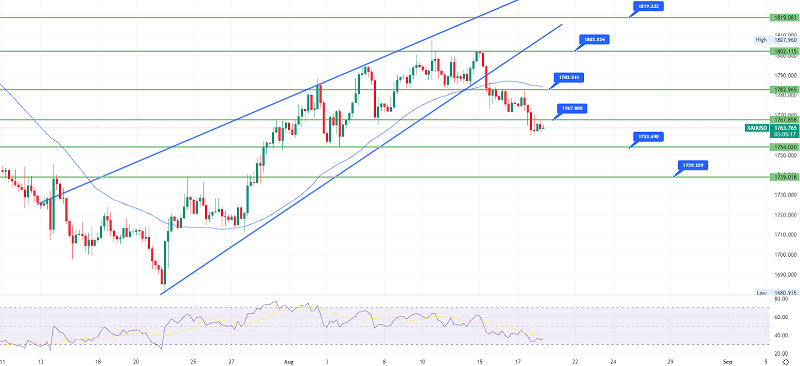 Gold Slips Below $1,770 – Stronger US Retail Sales in Play
Gold is trading near a two-week low, with rounds at $1,761 starting Thursday's Asian session. The recent immobility of the precious metal could be attributed to a lack of big data/events. However, following a brief dovish play, conflicting US data and the rejection of Fed Minutes have added to the general pessimism surrounding the US economy and Fed movements, weighing on GOLD XAU/USD values, not to mention strong yields and geopolitical concerns.
US 10-year Treasury rates jumped the most in a week, returning to a monthly high near 2.90%, weighing on Wall Street benchmarks and helping the US dollar reverse the dip seen following the Federal Open Market Committee (FOMC) meeting minutes. Nonetheless, the US Dollar Index (DXY) finished Wednesday's North American trading session with 0.18% daily gains near 106.70.
According to the Fed Minutes, officials firmly supported the 75 basis point rate hike in August despite anticipating a decreasing pace of hikes. The Minutes also indicated that Fed officials were concerned that the Fed would tighten more than required.
In other news, US retail sales increased by 0.0% in July, compared to the 0.1% projected and a downwardly revised 0.8%. Retail Sales Control Group data, on the other hand, increased to 0.8%, compared to 0.6% market expectations and 0.7% previously (updated from 0.8%).
It should be highlighted that Federal Reserve Governor Michelle Bowman recently stated that "high inflation and strong employment will almost certainly put some pressure on labor and employment."
In other developments, China's Premier Li Keqiang recently sent a message to local leaders in six important provinces that account for around 40% of the country's economy via the Communist Party's flagship newspaper, People's Daily.
Previously, President Xi Jinping and the National Development and Reform Commission (NDRC) expressed willingness to take additional measures to counteract recession fears. Second-tier US data may entice XAU/USD traders focused on central banks and growth concerns, not China.
Gold Technical Outlook
The gold price continues to fall as it approaches our anticipated target of 1755.25, falling under continuous negative pressure from the EMA50, bolstering the chances of exceeding the mentioned level and opening the door to more intraday losses, noting that breaking this level will push the price to 1726.60 as the next negative station.
Until the price rallies to breach 1779.25 and maintain above it, we will continue to imply a bearish trend for the foreseeable future. Today's trading range is likely between 1750.00 support and 1780.00 resistance.
Today's projected trend is bearish.