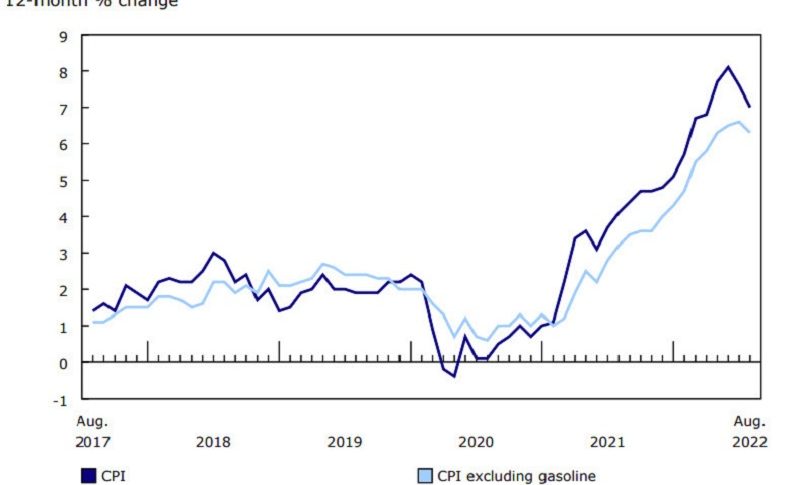 USD/CAD Remains Bullish As Inflation Starts to Slow in Canada
Posted Wednesday, September 21, 2022 by
Skerdian Meta
• 2 min read
USD/CAD was trading in a range below 1.30 for quite some time, although last month we saw a decisive move above that major level and now it seems like 1.30 has been left behind. Last week we saw another strong bullish move and yesterday the buying continued, which means that the CAD was falling.
The move higher yesterday came after the Canadian inflation report showed that consumer inflation cooled off in August. That's a positive sign and might be the reason the Bank of Canada needs to stall with rate hikes for now, as the RBA did.
USD/CAD Daily Chart – MAs Keeping the Price Supported
Trading decisively above 1.30   
Canadian August 2022 Consumer Price Index Report
Canada August CPI 7.0% YoY vs 7.3% expected
July CPI YY was 7.6%
CPI MoM -0.3% vs -0.1% expected
Prior MoM inflation reading was +0.1%
Core CPI YoY excluding gasoline +6.3% vs +6.6% prior
Gasoline prices -9.6% vs -9.2% in July
Average hourly wages +5.4%
Energy prices +% vs +28.0% y/y prior
Food +10.8% vs +7.6% y/y prior
Shelter costs +6.6% vs +7.0% y/y prior
Services +5.5% y/y vs +5.7% prior
Core measures:
BOC core YoY 5.8% vs 6.1% prior
BOC core MoM 0.0% vs +0.5% prior
Median 4.8% vs 5.0% prior
Trim 5.2% vs 5.4% prior
Common 5.7% vs 5.6% expected (5.5% prior)
This is an early sign of cooling inflation from the first central bank to hike. The details of the report look consistent with the headline, though the uptick in CPI common is notable. On net, there was negative inflation in August and the core was flat. Food is a big problem in Canada and globally though, especially in places where people can't afford to pay more.
The Bank of Canada is widely expected to hike 50 bps on October 26 to lift the rate to 3.75%. From there, we could see the central bank indicate perhaps another 25 bps and then some time on the sidelines.
USD/CAD Live Chart