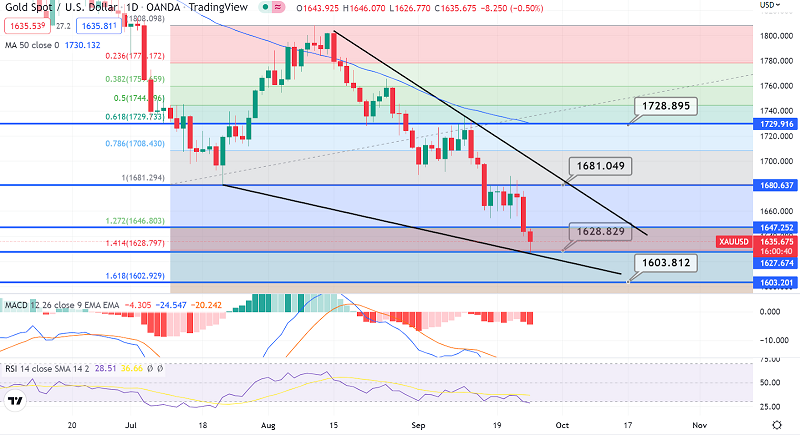 Gold Slips Under $1,650 Despite Safe-haven Appeal – Daily Outlook
Despite remaining resilient for the rest of the week despite unpredictable market action, gold experienced hefty losses on Friday, falling roughly 2%. There will be no high-level data releases on the economic calendar in the first half of next week, so traders should look for signals of the start of a technical downturn in XAU/USD.
Gold began the new week rather calmly, consolidating the previous week's losses ahead of the highly anticipated central bank comments. XAU/USD closed flat near $1,680 on Monday and fell slightly during the last week. Last week, Russian President Vladimir Putin authorized a partial military mobilization and warned of nuclear reprisal last week, claiming that the West wants to destroy Russia. According to Russia's defense ministry, 300,000 reserves will be called up and undertake military training before even being deployed. As international tensions grew, the precious metal found demand as a safe haven, and XAU/USD soared beyond $1,680 before losing its positive momentum in the afternoon.
As expected, the US Federal Reserve raised its policy rate by 75 basis points (bps) to 3-3.25%. The Summary of Economic Projections (SEP), or dot plot, revealed that policymakers' median projection of the policy rate at the end of 2023 was 4.6%, up from 3.8% in June. Furthermore, the median forecast for the federal funds rate at the end of 2024 increased to 3.9% from 3.4%.
The SEP's hawkish tilt pushed US Treasury bond yields higher and gold lower. Even during a press conference, FOMC Chairman Jerome Powell admitted that there was no "painless method" to keep inflation under control. "Any delay in bringing inflation down would exacerbate the misery," Powell added.
The Bank of England (BOE) and the Swiss National Bank (SNB) boosted interest rates by 50 basis points and 75 basis points, respectively. Following violent swings during European trading hours due to central bank announcements, markets calmed down during the American session. The 10-year US Treasury bond yield extended its climb, preventing XAU/USD from rising further.
Gold Technical Outlook
Gold prices fell sharply to reach our anticipated target of $1,644, and we expect the negative pressure to continue, with a next negative target of $1,630. Taking into account that holding below $1,655 represents the initial condition to continue the bearish wave, breaching it may push the price to test $1,670, followed by the $1,680 area before any new attempt to decline.
The leading technical indicators, MACD and RSI, are in support of a downtrend. Therefore, the odds of a bearish bias remain strong under $1,644.
The expected trend for today: Bearish