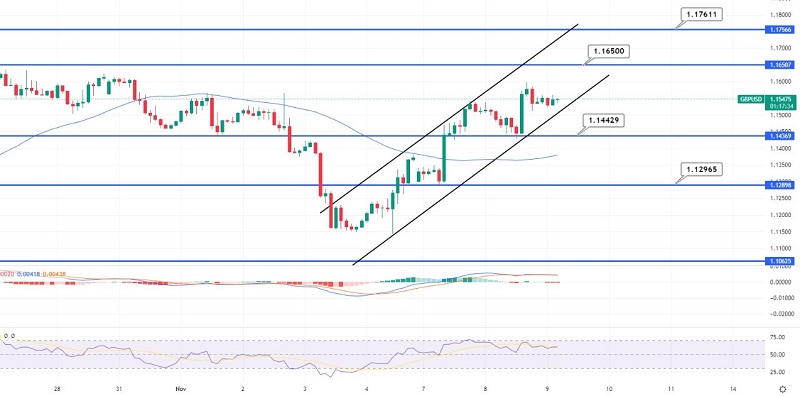 GBP/USD Upward Channel to Support at $1.1500 – Daily Outlook
During the four-day rally, GBP/USD seesaws about the mid-1.1500s as bulls and bears jostle early Wednesday. While the Cable pair's prior gains may be attributed to broader US dollar weakness, recent market uncertainty seems to have tested the bulls. Updates from the US midterm elections were among the primary drivers that undermined the earlier risk-on mindset. Speculations about the UK's new budget plan, which is set to be published next week, and China's currency issues are on the same page.
According to Reuters, "British Prime Minister Rishi Sunak is mulling raising the top income tax rate next week after the Treasury warned that more money was required to maintain pensions and benefits." The newspaper also reported that raising the 45% top rate or lowering the annual income threshold of 150,000 pounds ($173,160.00) at which it kicks in are options now being discussed and that the Treasury is going to look at continuing to increase the National Insurance rate that employers pay by 1.25 percentage points. While such an action is an open challenge to the Tory agenda, the UK's economic situation is bad, so such steps may not completely hurt the GBPUSD, despite recent challenges to the Cable bulls.
It should be highlighted that Bank of England (BoE) Chief Economist Huw Pill mentioned recession concerns at a panel discussion at the UBS European Conference in London titled "Global Monetary Policy Challenges."
"The BoE will do everything necessary to get inflation back to 2% on a sustained basis," the policymaker stressed.
In other news, China has reported the newest COVID cases in six months, with the newest addition of 8,335 for November 8 and a new virus-led lockdown in Guangzhou's second district. Furthermore, according to the most recent polls published by Reuters, Republicans are expected to win control of the House of Representatives and potentially the Senate, raising concerns about raising the US debt ceiling next year.
Republicans are also expected to restrict Democratic spending and regulations.
Against this environment, S&P 500 futures are struggling to match Wall Street's advances, as US 10-year Treasury rates are testing bears after reversing a four-day downtrend the day before. Looking ahead, risk catalysts will be more crucial for determining clear orientations ahead of Thursday's significant US Consumer Price Index (CPI) for October and the British Gross Domestic Product (GDP) for the third quarter (Q3), which will be released on Friday.
GBP/USD Technical Outlook
The GBPUSD pair trades negatively to move below the $1.1490 level, influenced by stochastic negativity, implying an intraday bearish correction. However, we will maintain the positive scenario unless we get a daily close below the mentioned level. Besides, the GBP/USD pair has formed an upward channel that supports the Sterling over $1.1515.
On the higher side, GBP/USD's immediate resistance stays at $1.1650 while support stays at $1.1515 and $1.1490. Let's consider looking for buying positions over $1.1500 today.
The expected trend for today: Bullish