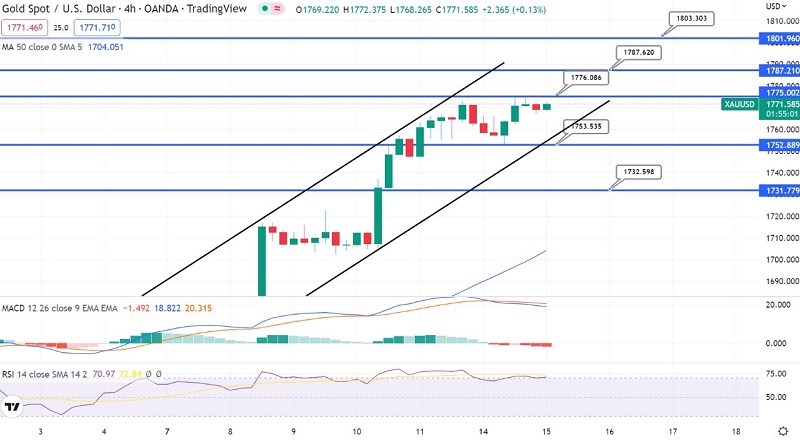 Gold's Bullish Bias Dominates – Quick Daily Outlook
During Tuesday's Asian session, gold prices remained low at around $1,770, justifying the previous day's bearish candlestick formation and sluggish market conditions. The yellow metal's recent weakness could also be attributed to conflicting comments from US Federal Reserve (Fed) officials and concerns about China. However, it should be noted that a light calendar also provides trading filters for the gold XAU/USD price.
Federal Reserve Officials Question Gold Price Optimism
After promoting easy rate hikes and teasing pivot talks in the previous week, US Federal Reserve policymakers began the week on a mixed note, with Vice-Chair Lael Brainard favoring a 50 basis point rate hike but also stating, "We have additional work to do." Earlier Monday, Federal Reserve Governor Christopher Waller advocated for a 0.50% rate hike while cautioning against the market's perception of the pivot. Such remarks from US Federal Reserve officials dampened optimism about future policy moves and boosted the US Dollar's strength.
Headlines from China also Hint at a Drop in Gold
Because China is the world's largest bullion buyer, the latest mixed news from the dragon nation is scrutinizing the gold price. Recently, US President Joe Biden and his Chinese counterpart Xi Jinping met for the first time in three years and attempted to promote healthy competition, which should have benefited the gold price. However, the thorny issue of Taiwan dampened enthusiasm for the event.
Elsewhere, China's relaxation of some COVID restrictions and assistance to the real-estate sector join the rise in daily COVID numbers to challenge gold traders.
The Key Metric is US Treasury Yields
Given the rebound in US Treasury yields, which is supporting the US Dollar's recovery, the Bond coupons will be critical to monitor for clear directions, especially in light of mixed updates and a light calendar. If bond bears continue to fear a recession and maintain control, the gold price will likely stay firmer. Nonetheless, the benchmark US 10-year Treasury yields remained unchanged near 3.86% at the time of publication.
Inflation Expectations in the United States are Also Important
A rise in the New York Federal Reserve's (Fed) inflation expectations appears to have reignited US bond selling, so price pressure headlines should also be monitored for near-term gold price direction. As a result, today's US Producer Price Index (PPI) for October, which is expected to be 8.3% YoY versus 8.5% previously, should be closely monitored to forecast short-term gold price movements accurately.
Gold Technical Outlook
The gold price faces strong resistance at $1,776 per ounce, indicating a slight bearish bias. The MACD is forming histograms below zero, suggesting the possibility of a bearish correction. At the same time, the RSI remains in positive territory.
A double-top pattern is extending resistance near the $1,776 level, and a bullish crossover above this level is likely to push gold prices up to the $1,787 level. Further up, gold may encounter resistance near the $1,803 level.
On the downside, gold's immediate support level remains at $1,760 or $1,753. The trading range for today is expected to be between $1,753 at support and $1,785 at resistance.
Today's projected trend: Bullish