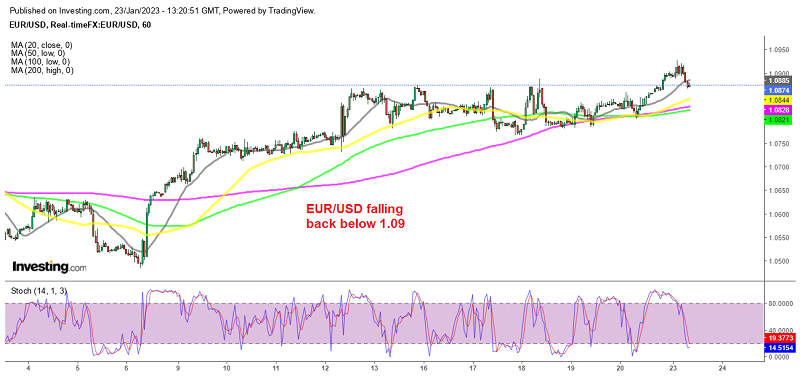 EUR/USD Finding It Hard to Keep the Gains Despite Hawkish ECB Remarks
EUR/USD made a strong reversal in October and made some decent gains until the middle of December, but since then the upside momentum has slowed. Buyers resumed the uptrend this year again, although they have been slow to make new gains. Today this pair got it going again during the Asian session, as it pushed to a new high at 1.0927, but they couldn't hold the gains above 1.09 and we have seen a quick reversal during most of the European session.
Most of the decline has come from the USD side, with the Buck retreating lower since October, after the FED started to soften the rate hike rhetoric. On Friday the USD resumed the decline after FED's Waller endorsed a 25 bps hike for next week's meeting and added that "if markets are right about inflation".
US Treasury chief Janet Yellen mentioned earlier today that there is encouragement from recent data, showing that inflation has slowed in the US and that's a good feeling. Citi also dropped its call for a 50 bps hike at the next meeting and is now projecting a 25 bps hike.
So, the FED is slowing while the ECB is keeping pace, with several members calling for further 50 bps rate hikes in the coming meetings. ECB member Kazimir made some comments earlier today, pushing for further strong hikes.
Remarks by ECB Policymaker, Peter Kažimír
We need to deliver two more 50 bps rate hikes
Inflation easing is good news but not reason enough to slow the pace of rate hikes
Core inflation trend is most important for me
Not certain how high rates should go or how long they should stay there
Dutch central bank governor and hence a European Central Bank Governing Council member, Klaas Knot, also pressed for 50 bps hikes in his two separate interviews on Sunday.
Interview with Dutch broadcaster WNL
"Expect us to raise rates by 0.5% in February and March and expect us to not be done by then and that more steps will follow in May and June"
Interview with Italian Newspaper La Stampa:
"Too early to tell" if the ECB could slow down the pace of its rate increases by the summer.
"At some point, of course, the risks surrounding the inflation outlook will become more balanced"
"That would also be a time in which we could make a further step down from 50 to 25 basis points, for instance. But we are still far away from that."
We have turned bearish in EUR/USD as the bullish pressure fading and the price heading for 1.07 now
2 days ago