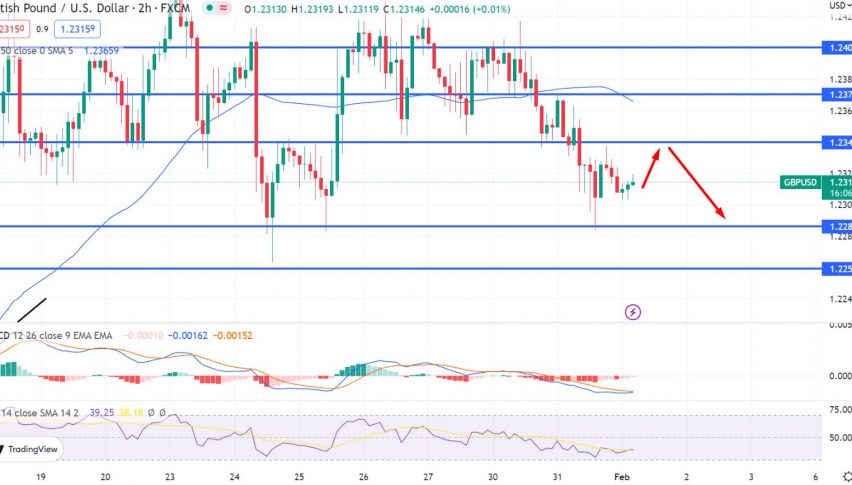 GBP/USD Finds Support Near 1.2300, USD Weakness Creates Opportunity Amid Fed-BoE Spotlight
Posted Wednesday, February 1, 2023 by
Arslan Butt
• 2 min read
After falling toward the critical support around 1.2300 in the Asian session, the GBP/USD pair has measured an intermediate cushion. Following a downward move to near 101.80, the US Dollar Index (DXY) has retreated, giving Cable a boost. Since the foreign exchange market is anticipated to remain to be turbulent before the Federal Reserve's interest rate decision, it would be premature to interpret the pause in the decline of the pound sterling as a bullish reversal (Fed).
In the meanwhile, the risk level continues to favor safe-haven investments. Despite a positive session on Tuesday, S&P 500 futures are trading lower in Asia on market concerns that the Fed's plan to continue raising interest rates will have a chilling effect on the pace of economic growth in the United States. Higher interest rates will hurt the morale of producers, and investors should get ready for a growing fear of a recession. Contrary to the idea that people are becoming more risk averse, interest in buying US government bonds has increased.
This has contributed to yields on 10-year US Treasury bonds falling below 3.51%. In the meantime, Goldman Sachs analysts have made guesses about what Jerome Powell, the head of the Fed, will say at the next meeting on monetary policy, which will be in February. They state, "Since the FOMC last met in December, incoming statistics on wage growth and inflation have been promising, while indications on activity growth have been mixed and at times alarming."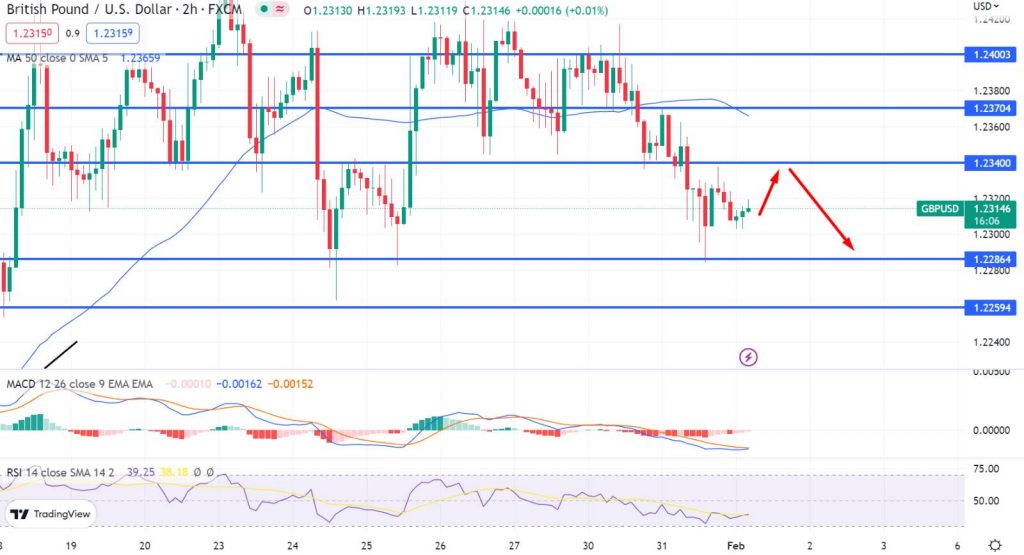 As a result, the argument for holding off on another rate rise this week by 25 basis points was straightforward. Goldman Sachs thinks there will be two more rate hikes of 25 basis points each in March and May. However, if low business confidence slows down hiring and investment, there may only need to be one or two rate hikes.
On the British front, the case for a greater interest rate hike by the Bank of England is strengthened by the absence of inflation slowdown signs and by rising wage growth due to a tight labor market (BoE). Most people expect Bank of England Governor Andrew Bailey to say that the target rate will go up by 50 basis points (bps), which would bring it to 4.00%.