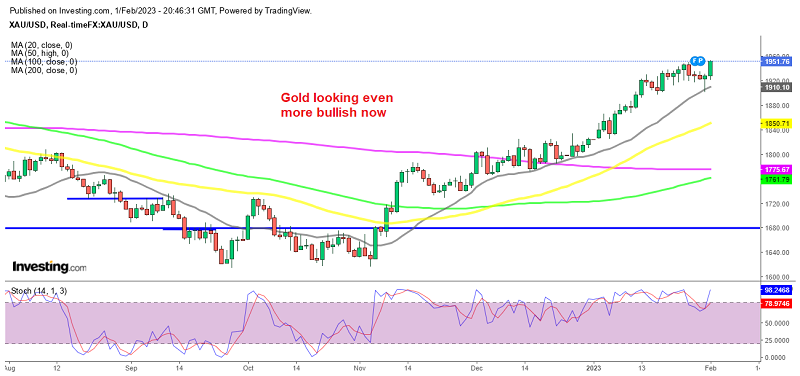 Gold on the Way to $2,000 After Bouncing Off the 20 Daily SMA
Gold was bearish for most of last year as the USD kept surging higher on a tightening FED, with three 75 bps rate hikes, but reversed higher in November as the FED started to slow down and soften the rhetoric. The FED slowed to 50 bps in December and they slowed again to 25 bps this month, so traders this time were expecting a dovish FED.
The statement was even more dovish than traders were anticipating, with Powell mentioning rate cuts later this year. This was enough to send the USD lower and all risk assets higher. Below are the main comments from Jerome Powell:
Comments from the Federal Reserve Chairman
We are not yet sufficiently restrictive on rates
Our focus is not on short-term moves in financial conditions
Our focus is on sustained changes to broader financial conditions
It is gratifying to see the disinflationary process now underway
Fed doesn't yet see disinflation yet in core services
At March meeting we will update our assessment for the rate hike path but we still think there's work to do, we haven't made a decision about where exactly rates need to be
If data is strong, we could go higher, if data is weaker we could stay lower. Will be data dependent
It's very difficult to manage the risks of doing too little. If you find out you did too little and it's six or nine months later then there's a risk to 

inflation

 expectations
If inflation comes down too fast, we have tools that can fix that
We have core services inflation that's not showing disinflation
It would be very premature to declare victory on inflation
"We can now say for the first time that the disinflationary process has started"
We don't see inflation easing in core services ex-housing "we don't see it yet"… "I think we will fairly soon."
We have no incentive or desire to over-tighten
Policy is restrictive, we're trying to judge about how much is restrictive enough
"We're talking about a COUPLE of more rate hikes to get to that level we think is appropriately restrictive."
"My view is that you're not going to have sustainable return to 2% in core ex-housing sector without increased labor slack"
The market reversed when he was asked about financial conditions. He pushed back against financial conditions (which is pretty much a code word for stock markets) but not as hard as he could have. The market has taken that as a green light. The line on the disinflationary process starting will be the main headline of this meeting.
XAU/USD retreated lower earlier this week, but the decline stopped at the 20 SMA (gray) on the daily chart, which acted as support. The price formed a hammer yesterday, which is a bullish reversing signal and yesterday we saw a decent bullish daily candlestick. Meanwhile we opened a sell EUR/USD signal after the ECB rate hike, since markets were expecting a more hawkish statement, so the risks were to the downside for the Euro.