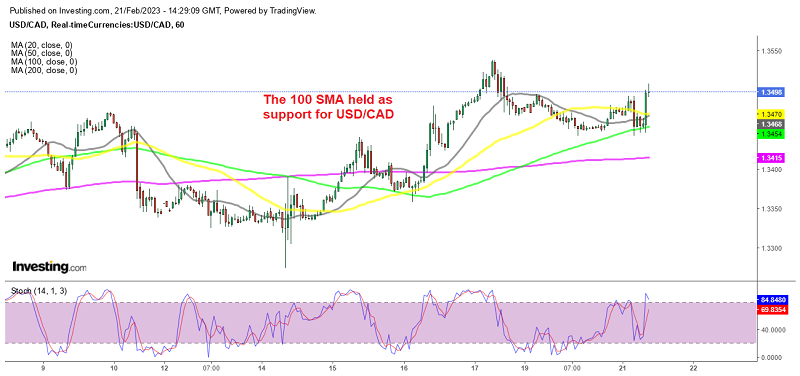 USD/CAD Jumps on Softer Canadian Inflation
USD/CAD has been bullish since the middle of this month, after returning from below 1.33 and climbing up to 1.3550 last week. although we have seen a retrace since Friday as the USD pulled back, but moving averages held as support and today we saw a bounce higher off the 100 SMA (green) on the H1 chart.
The CAD dived about 50 pips in the aftermath of today's inflation report from Canada. Both CPI inflation and retail sales undershot expectations and that's welcome by the Bank of Canada. Prior to the data, the market was flirting with the idea that the Bank of Canada's conditional pledge to hold rates steady wouldn't even last a single meeting. The implied odds of a hike at the March 8 meeting were 25% before the data. Now, the odds are lower nd USD/CAD has jumped higher as CPI came at 5.9% against 6.1% expected, which takes the pressure off the BOC.
Canada Retail Sales for December 2022
December retail sales 0.5% versus 0.5% expected
November sales were -0.1% revised to 0.0%
Advanced 

flash estimate

 +0.5%
retail sales 0.5% versus 0.5% expected.
Ex autos -0.6% versus -0.1% expected. Prior month -0.6% revise it to -0.5%
Ex auto and gas +0.4%
Retail sales in 2022 increased 8.2% with volume sales up 1.5%
Sales increased in seven of 11 sales increased in seven of 11 sectors representing 75.1% of retail trade
Advanced retail sales for January expected at 0.7%. That release will be on March 24, 2023
New car dealer sales increased by 5.0% which was the largest increase in February 2021
Gasoline sales fell -5.8% which was the largest decline in retail trade in December. In volume terms sales increase 4.7% as prices fell -13.1% on an unadjusted basis in December leading to the sharp decline. That was the largest monthly decrease in prices since April 2020
The headline data came in as expected. Ex autos was weaker but ex autos and gas was solid at 0.4% thanks to a sharp decline in gasoline prices. The expectations for January in order for a 0.7% increase. Generally speaking the prerelease data is fairly accurate.
The USD/CAD is higher after the data as better inflation is driving the move. The pair as will back above the swing ceiling area from late January to February 10 between 1.3467 and 1.34749. The price has been waffling above and below that area over the last four trading days.