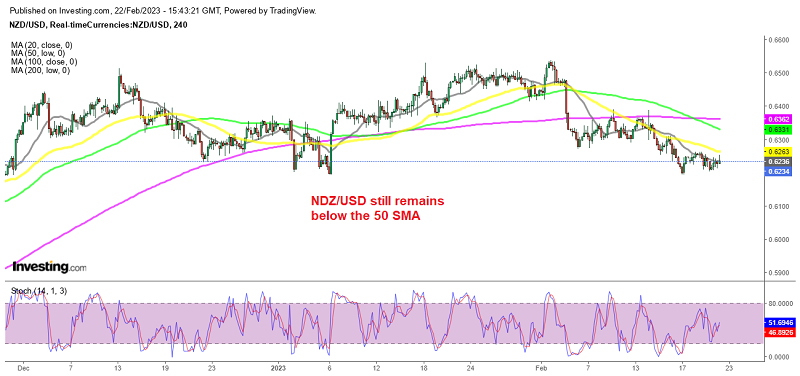 Where Does NZD/USD Stand After the RBNZ Hike?
Posted Wednesday, February 22, 2023 by
Skerdian Meta
• 2 min read
NZD/USD has been showing signs of weakness and it come under some renewed selling pressure yesterday, ending up as the weakest among major currencies. Spot prices ended a few pips above 0.62, after this pair was rejected by moving averages higher, following the retrace during Friday last week and Monday.
So, the New Zealand dollar was looking vulnerable ahead of the Reserve Bank of New Zealand meeting. Although, markets had already scaled back expectations of an aggressive rate hike this time, as inflation seems to bearching a peak in New Zealand.
On the other hand, the US Dollar is experiencing renewed buying interest, as markets expect further policy tightening by the FED, which, in turn. This is also helping weighing down on this pair and traders seem convinced that the FED will remain hawkish for longer, with expectations of at least a 25 bps lift-off in the next two FED meetings in the coming two months.
The risk sentiment is waning due to global worries about economic headwinds stemming from rapidly rising borrowing costs, as well as from geopolitical tensions. So, the RBNZ statement which you can find below wasn't particularly hawkish, which leaves NZD/USD with a bearish bias.
RBNZ Interest Rate Decision and Statement
RBNZ sees official cash rate at 5.14% in June 2023 (prior 5.41%)
At 5.5% in March 2024 (prior 5.5%)
RBNZ hikes cash rate by +50bp, from 4.25% to 4.75%
Sees official cash rate at 5.5% in June 2024 (prior 5.5%)
Sees official cash rate at 4.05% in march 2026
Sees NZD TWI around 71.5 in March 2024 (prior 70.0)
Sees annual cpi 4.2% by March 2024 (prior 3.8%)
Committee remains resolute in achieving the monetary policy
Committee members agreed that monetary conditions needed to continue to tighten further
While there are early signs of price pressure easing, core consumer price inflation remains too high
Employment is still beyond its maximum sustainable level, and near-term inflation expectations remain elevated.
Committee will look through short-term output variations and direct price effects of cyclone damage
While there are early signs of demand easing it continues to outpace supply, as reflected in strong domestic inflation
From the RBNZ minutes:
Increases of 50 and 75 basis points were considered
Inflation is currently too high and employment is beyond its maximum sustainable level
Committee agreed it must continue to increase the official cash rate (ocr) to return inflation to target and to fulfil its remit
Balance of risks around inflation remain skewed to the upside
The extent of this risk had moderated somewhat since November
Committee members discussed the effects of Cyclone Gabrielle and other recent severe weather events
Members noted the rapid pace and extent of tightening to date implies monetary policy is now contractionary
Economic impacts discussed by the committee from weather events included the immediate upward pressure on some prices
Committee agreed that the medium-term impacts of the severe weather events do not materially alter the outlook for monetary policy
Committee agreed that housing market related activity was a downside risk
As debt servicing costs rise, spending decisions for many households will become increasingly constrained
As in the November statement, the central projections show a decline in GDP this year
Resilience of household balance sheets is seen as a downside risk
The Reserve Bank of New Zealand raised interest rates yet again early today
6 days ago