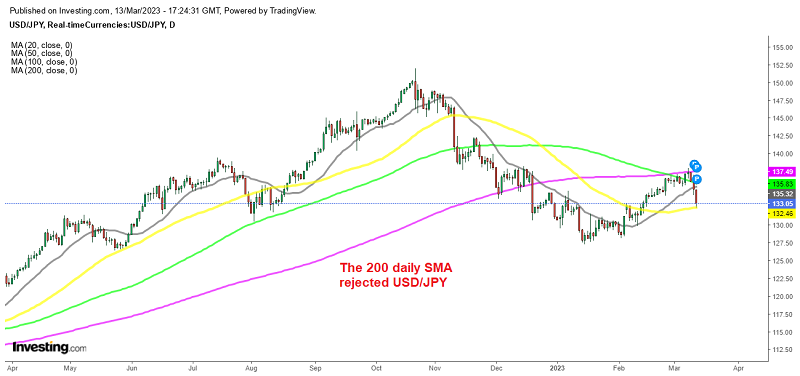 USD/JPY Reverses Lower As Buyers Fail at MAs
USD/JPY was surging last year and pushed above 152 on central bank divergence, with the FED raising interest rates pretty fast, while the Bank of Japan continues to keep rates negative. But the Usd started a retreating period in October and we saw a steep decline since then until January, when the decline stopped below 128. Since then, the momentum has been bearish, as the US data has shown a decent improvement.
But based on recent events, there is a possibility that the JPY could gain ground again against the US dollar due to an increase in risk aversion and revived USD weakness. The closure of SVB bank, which is the largest bank failure since the 2008 financial crisis has created concerns about contagion within the banking sector and the broader economy, causing US Treasury yields to decline and safe-haven currencies like Yen and the Swiss Franc to rally.
On the daily chart above, the slide below the support zone at 135.25 confirmed a decrease in upward pressure. If the pair remains below this level, there is a risk of a drop toward 130. In recent weeks, USD/JPY has faced resistance around 137.00-138.20, and the 200 SMA (purple) has added to that resistance zone around the December high of 138.20s. So, it seems that the two-month-long rally may have reached its limit.
Despite the release of positive US NFP report for February, concerns surrounding SVB overshadowed it. US FED chairman Powell's semi-annual testimony at the Congress included increased hawkishness, indicating that the central bank is prepared to increase the pace of rate hikes depending on incoming data, and that the ultimate rate peak is likely to be higher than expected.
US non-farm payroll grew 315K in February which was faster than February 2022's 224K but the unemployment rate jumped to 3.6% from near the five-decade low of 3.4%. So now markets are divided between a 25 bps hike and no hike at all in FED's next week's meeting. This will likely keep thispair bearihs, although sellers have to push below the 50 daily SMA for further declines.
Core PCE inflation ticked higher to 4.7% this month, which should keep the FED hawkish and the USD bullish
3 days ago