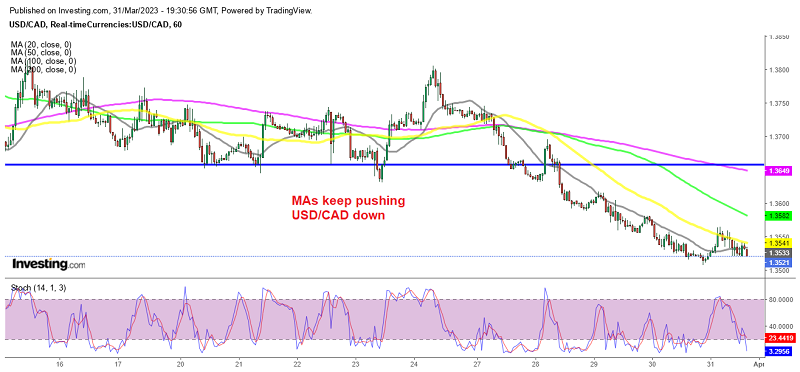 USD/CAD Continues Declining Trend After Strong Canada GDP Numbers
USD/CAD made a bearish reversal last week just above 1.38, as risk sentiment turned positive and safe havens started declining, including the USD. The constant uptrend in crude Oil this week has helped the situation for the CAD as well, with US WTI crude closing the week around $75.50.
This pair has lost around 3 cents, with moving averages such as the 20 SMA (gray) and the 50 SMA (yellow) acting as resistance on the H1 chart, pushing the highs lower and keeping the pressure to the downside. On Friday the GDP report from Canada showed a decent bounce in January, while February's predictions are also strong. This will keep the trend bearish for USD/CAD , considering that markets are expecting the FED to stop rate hikes after the 25 bps hike planned for next meeting in May.
Canada GDP for January 2023
January GDP 0.5% versus 0.3% expected
Prior month at -0.1% unchanged from the previous estimate
Goods producing sector rose by 0.4%
Service sector rose by 0.6%
17 of 20 industrial sectors posted increases
Advance GDP estimate for February indicates an increase of 0.3%
Wholesale trade rose 1.8% in January which more than offset the declines observed in the previous two months
Mining quarrying and oil and gas extraction increase by 1.1% in January after A- 3.3% decline in December due to unplanned maintenance
Manufacturing sector grew 0.5% in January led by growth in

durable goods

 manufacturing (up to 1.2%. Third consecutive monthly increase). Non durable goods manufacturing fell -0.3%, 86 consecutive decline.
Construction spending increased by 0.7% the largest gain since March 2022
Transportation and warehousing increase 1.9% versus -1.1% in December
Accommodations and food services rose 4.0%
Arts, entertainment and recreation rose 2.1%
Public-sector growth rose 0.3% for the 12 consecutive month
Based on information from Statistics Canada, several sectors were key contributors to economic growth in January, despite having experienced declines in December. Sectors such as wholesale trade, transportation and warehousing, and mining, quarrying, and oil and gas extraction all rebounded in January. Additionally, after a period of relative stagnation in the latter half of 2022, the accommodation and food services sector also contributed significantly to growth in January, with food services and drinking places leading the way.
Looking at individual sectors, agriculture and forestry, as well as utilities, were the only ones that experienced declines.
Canada GDP for January