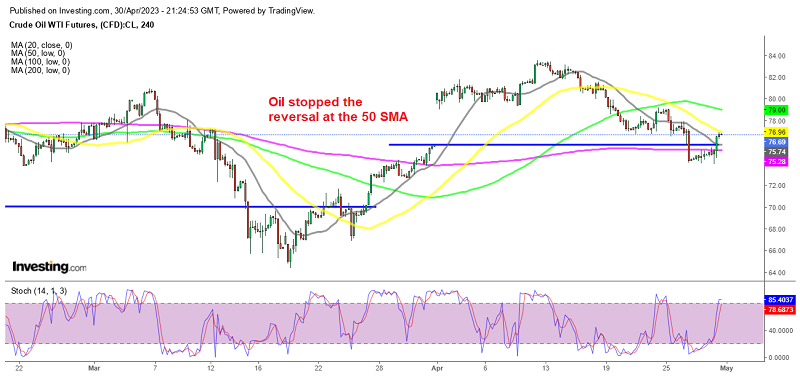 Will the 50 MA Reverse Crude Oil Back Down?
Crude Oil turned bearish by the middle of April, but it had a mixed week last week, with a rally in the last few trading sessions, which was not enough to prevent a 1.5% drop for April, marking the 6th consecutive month of losses. WTI crude was making gains early last week, but they were erased by a mid-week US dollar recovery, as sentiment turned negative due to the resurfacing of the banking sector vowes, although robust US earnings figured later in the week restored market optimism, which helped WTI rebound from $74 and gain nearly $3, as the price touched the 50 SMA at the end of the week.
US data painted a mixed picture last week which left USD traders uncertain about the FED which is holding its meeting on Wednesday. The US GDP headline number was lower for Q1, but inventories dragged it down, otherwise, we would have seen some great figures. Although the decline in US capital goods spending indicated a slowdown in economic growth, while inflationary and recessionary fears resurfaced.
The GDP price index showed an increase on Thursday, while Friday's PCE inflation numbers showed a slight increase in both month-over-month and year-over-year prices, which could signal the option for the FED to maintain restrictive rates for a longer period, potentially affecting demand.
The World Bank also released the latest Commodity Markets Outlook report for this year and beyond, indicating that commodity prices are set to experience the fastest price decline since the coronavirus started in 2020. The report sees a 26% fall in energy prices this year, with the price of UK Brent crude expected to average $84 a barrel this year, down 16% from the average last year.
The price of the US
WTI
crude Oil almost gained $3 toward the end of last week, the moving average 200 SMA (purple) on the H4 chart. But, the climb stopped right at the 50 SMA (yellow), which might turn into support. So we are watching the price action today and might open a sell Oil signal if buyers fail to show bullish momentum.