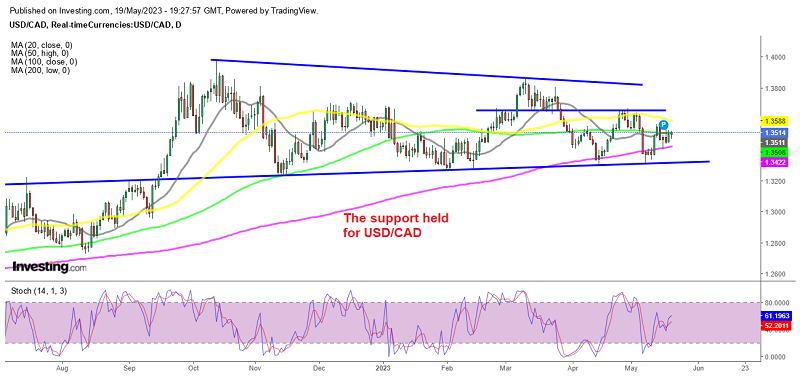 USD/CAD Bouncing Off the Bottom of the Range As Retail Sales Fall
USD/CAD has been trading in a wedge (narrowing range) since October last year, with markets remaining uncertain about the US and Canadian economies. The economic data from both countries has been mixed in recent months, which has been pushing this pair up and down. Early this month USD/CAD tested the bottom of the range around 1.34, but last week we saw a reversal, and now buyers are in charge.
On Friday, Canada's retail sales for March decreased by 1.4%, in line with expectations. However, the core measure performed better than predicted, with a decrease of only 0.3% compared to an expected 0.8% decline. At the same time, oil prices experienced an upward trend, creating a mixed economic environment. The combination of weaker retail data and stronger Oil prices has led to a moderate decline in the USD/CAD exchange rate, pushing it higher. The price is headed for the top of the range, so we will try to buy the dips in this pair during next week.
Canada Retail Sales for March 2023
March retail sales -1.4%
February sales were -0.2%
Advanced 

flash estimate

 for April 0.2%
Core sales ex. autos -0.3% versus -0.8% expected
Prior core sales ex-autos came in at -0.7%
The advanced retail sales report for March (released last month) also came at -1.4%
In March, Canadian retail sales decreased by 1.4% to $65.3 billion, primarily due to declines in 5 out of 9 subsectors, which make up 55.5% of retail trade. The leading contributors to the decline were a 4.4% drop in sales at motor vehicle and parts dealers and a 3.9% drop at gasoline stations and fuel vendors. However, when excluding these sectors, core retail sales experienced a slight increase of 0.3%. In terms of volume, retail sales saw a 1.0% decrease.
Despite the decline in March, retail sales for Q1 2023 were up by 0.7%, with a 1.2% increase in volume. This was the first decrease in sales for motor vehicle and parts dealers in eight months, with new car dealers experiencing the largest drop of 4.8%. Retail e-commerce sales in Canada rose by 2.2% to $3.8 billion in March, accounting for 5.9% of total retail trade. A preliminary estimate suggests a 0.2% increase in retail sales for April.
The advanced report last month showed an expected decline of -1.4%. Below are the gains and losses from the various sectors in March.