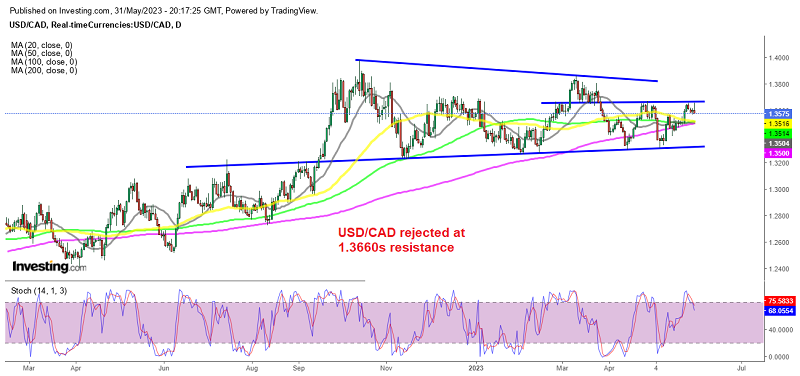 USD/CAD in A Range, on Stronger Canada GDP, Weaker China Rebound
USD/CAD has been trading in a range since October last year, as the price keeps bouncing up and down. Crude Oil which is a major export of Canada keeps affecting the CAD, and Oil has been unstable in recent months due to a weaker global economy, so the CAD has been reluctant to take a side.
Crude oil prices have experienced a decline in the last several weeks due to the strengthening of the USD. However, tension has been escalating between the two major contributors to the OPEC+ alliance, namely Russia and Saudi Arabia. This friction has arisen as Russia has failed to meet its production cut commitments and there are concerns that this trend may continue when they meet on June 4th to discuss an output agreement. Although there has been a unilateral agreement to reduce production, analysts are skeptical about the effectiveness of these cuts.
On the other hand, the demand side seems weaker now as Chinese manufacturing is back in contraction. Yesterday we saw the Purchasing Managers' Index (PMI) manufacturing index fall to 48.8 points which is the lowest level for 2023 and indicates an increasing weakness in China's manufacturing activity. This contributes to the challenges faced by the crude Oil market.
Yesterday we got the GDP report for March from Canada, which was quite positive. It showed that the economy expanded by 0.3% that month, beating expectations of 0.3%. This implies further rate hikes by the Bank of Canada (BOC) which gave the CAD a boost yesterday. Buyers were testing the top of the range as USD buyers were in charge, but they failed at the resistance and USD/CAD  reversed back down. So, it seems like the price will enter a bearish period now, although we have some important economic data from the US today which might change everything.
USD/CAD Live Chart