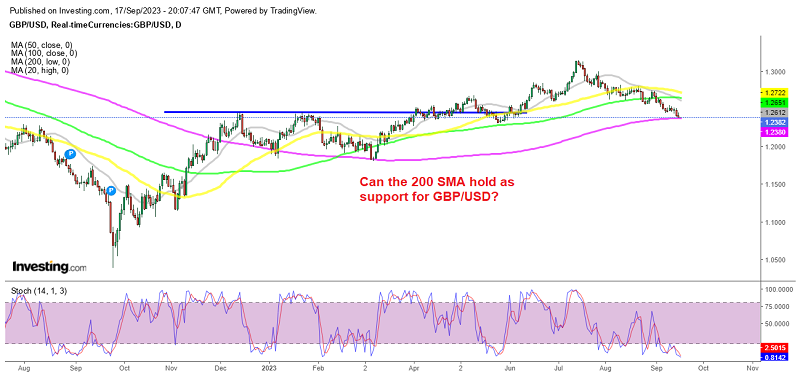 The Ultimate Test at the 200 Daily SMA for GBP/USD, After Breaking 1.2450
The bearish case for GBP/USD is getting stronger as it continues to be on a downward trajectory since July, with sellers dominating the market. This is evidenced by the pair consistently forming lower highs and experiencing a continuous decline in price, while moving averages have been turning into resistance after being broken.
The pair has lost approximately 8 cents from its peak at around 1.3150, closing at 1.2480s last week. This is where we have the presence of the 200-day Simple Moving Average (purple) on the daily chart at this level. The decline stalled at the 1.2450 level which has been a historically strong support and resistance level. Although there was no bounce from this support zone, so this level was broken and the downtrend continued.
The economic data from the UK is also contributing to the bearish sentiment in GBP/USD .  The recent employment report revealed negative aspects such as negative payroll change, employment change, and a higher unemployment rate.
Although the biggest contributing factor has been the sustained demand for the US Dollar in the midst of a series of encouraging economic statistics. The currency pair resumed the decline following the release of US inflation data on Wednesday. In contrast to the predicted 3.6% increase, the annual inflation rate in the United States increased by 3.7% in August. The CPI increased by 0.6% MoM in August, which was the highest monthly increase since 2023 and was in line with expectations.
On Thursday we sw some strong Retail Sales from the US, followed by a jump in the Producer Price Index (PPI) and lower Jobless Claims, which demonstrated the resiliency of the US economy. The promising numbers sparked a fresh run up in the US Dollar along with the US Treasury note rates, resetting three-month lows for the GBP/USD. As a result, we will continue to sell this pair this week. This has also kept EUR/GBP bullish, which we should keep in mind when trading in the coming sessions.