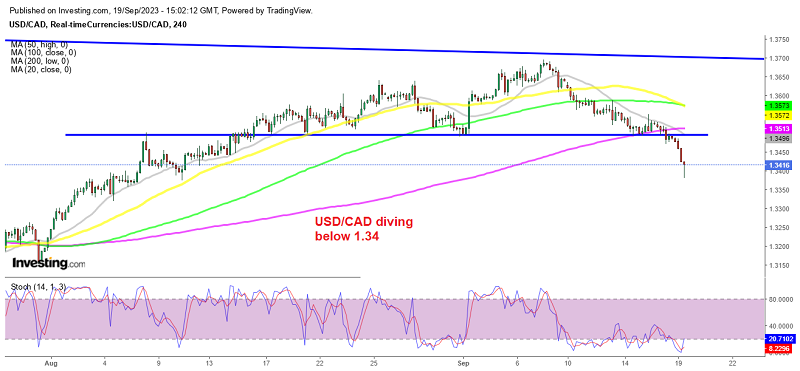 USD/CAD Tumbling Lower on Higher Oil and Inflation in Canada
Posted Wednesday, September 20, 2023 by
Skerdian Meta
• 2 min read
The US dollar (USD) has been strengthening on the FED keeping the hopes up for additional rate rises, keeping USD/CAD on a positive trend since July, continuously pushing the price to higher highs. The deteriorating Canadian economy, which has kept the Bank of Canada on the sidelines, has been a big contributor to the upward trend in USD/CAD. Although the market has been driving this pair higher because it does not believe the BOC will hike rates again, there is still a ton of data to come before the next meeting.
Today we had the inflation report which showed a bounce in August. Headline CPI inflation jumped 7 points higher to 4.0% last month from 3.3% in July, which might be a reason for the BOC to keep the rhetoric strong, although the odds for further rate hikes are low. USD/CAD has dived to 1.3380 after the report, although the surge in crude Oil, with US WTI above $92 is also helping the CAD.
Canada August CPI Inflation Report
Canada August CPI 4.0% versus 3.8% expected
July CPI infation was 3.3%
CPI MoM 0.4% % versus 0.3% expected
Prior CPI MoM 0.6%
CPI YoY 4.0% % versus 3.8% expected
Core measures:
BOC Core YoY 3.3% versus 3.2% last month
BOC Core MoM 0.1% versus 0.5% last month
CPI median 4.1% versus 3.9% last month (revised from 3.7%
CPI Trim 3.9% versus 3.6% last month
CPI Common 4.8% versus 4.8% last month
Highlights:
The rise in August's CPI was majorly due to higher gasoline prices (+0.8%) compared to a decrease in July (-12.9%).
Excluding gasoline, the CPI growth was consistent at 4.1% for both August and July.
Canadians experienced higher rent, mortgage interest, and energy costs in August.
Prices for travel-related services decreased, and food price growth slowed compared to the previous month.
The monthly deceleration was largely due to drops in travel tours (-6.4%) and air transportation (-6.9%) prices after the July summer travel peak.
On a seasonally adjusted basis, the monthly CPI growth was 0.6%.
USD/CAD Live Chart
USD/CAD was testing the highs early in November, with the price trading around 1.39, before making a sharp reversal. The price found support
4 days ago