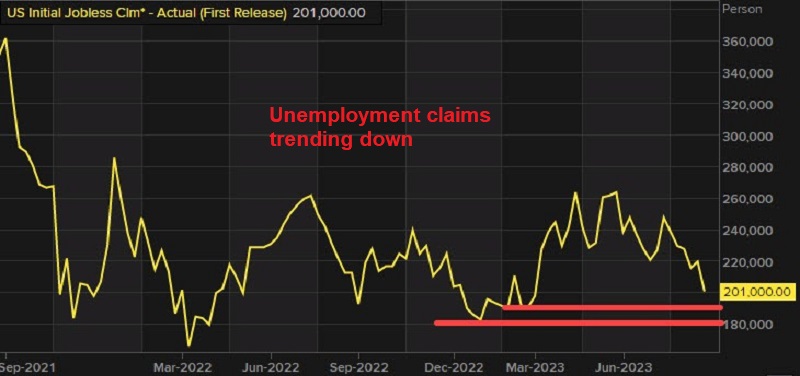 US Employment Remains Solid, Keeping the Economy Afloat and the FED Still Hawkish
Posted Saturday, September 23, 2023 by
Skerdian Meta
• 2 min read
Earlier this month many traders/investors who were betting on the USD had a scare after some soft employment figures, which showed that this sector was softening as well, following the slowdown in other sectors. This implied that the US economy might be heading into a possible recession, following other developed economies such as the Eurozone, the UK, and the New Zealand economies, with the latter already having two negative quarters previously.
Although, in the last 2-3 weeks the data from the US has shown improvement, particularly employment. Last week, applications for unemployment benefits in the United States fell to their lowest level in eight months, as the labor market remained strong in the face of rising interest rates. The Labor Department said yesterday that unemployment claims in the United States declined by 20,000, coming to 201,000 for the week ending September 16. The four-week moving average of claims, a less volatile measure, fell by 7,750 to 217,000. This is the lowest level since January.
Initial Jobless Claims in Continuing Claims for the Current Week
Prior week 220K revised 221K
Initial employment claims 201K vs 225K estimate
4-week MA of initial jobless claims 217K vs 224.75K last week
Continuing claims 1.662M vs 1.695M estimate.
Prior week continuing claims 1.688M revised to 1.683M
4-week moving average of continuing claims 1.687M versus 1.6957M last week
The employment data remains a sticking point for the Fed and this data does not take that away. The initial jobless claims number is the lowest since January 28. FED Chair Jerome Powell said on Wednesday that "the labor market remains tight, but supply and demand conditions continue to come into better balance." So, the labour market resilience is helping the broader economy even as recession fears linger. This means that as long as the jobs market remains robust, the USD will remain bullish and we will keep buying the retreats against the Euro and the GBP.