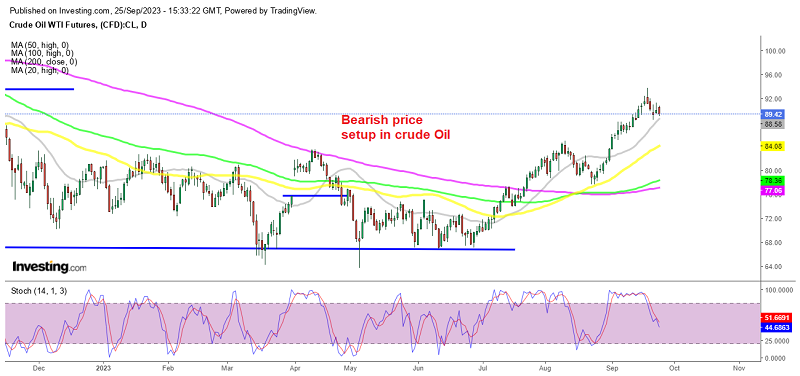 Signs of Exhaustion After Strong Rally in Crude Oil
In July, crude Oil began to rise from around $67 per barrel, establishing a very strong positive trend. Dips are still being purchased, and smaller moving averages have been acting as support, confirming that buying pressure is high. By the middle of August, crude Oil had taken a further dive, but it found support and turned around right at the 50 SMA (yellow) on the daily chart.
The 20 SMA (gray) has also been supportive of WTI Oil, pushing the price higher, eventually reaching above $92 on Tuesday last week, as Saudi Arabia and other OPEC+ members have taken steps to reduce output. But the price retreated as the FED delivered a hawkish hold in last Wednesday's meeting and WTI crude fell to $88.40s.
The price formed adoji candlestick down there which is a bullish reversing signal and on Friday Oil started turning bullish again. But at the end of the day, the price retreated back down and closed near the 20 daily SMA. Today sellers are coming back and are heading the price toward this moving average and the daily candlestick looks bearish already, so it looks like we are seeing another deeper retreat.
So, crude Oil prices have begun the week on the wrong foot, as the market digests Russia's temporary restriction on diesel and gasoline exports into an already tight market, which has been tempered by the FED's hawkish message last week that interest rates would remain higher for longer. We have been long on Oil during this time and will follow the price action to see when this retreat might come to an end.
US WTI Crude Oil Live Chart