How to Choose the Best Cryptocurrency Broker
Last Update: January 3rd, 2023
Cryptocurrencies like Bitcoin, Ethereum, Litecoin, and Ripple (XRP), have produced incredible gains, the likes of which had never been seen before the world of digital currency became mainstream. However, cryptocurrencies are dynamic, volatile instruments and must be handled with extreme care. 
Your first step into the crypto market should be to choose a reliable, well-established forex broker to facilitate your cryptocurrency trades.
To trade cryptocurrencies profitably, you must have superb execution speed, razor-thin spreads, a robust trading platform, and deep liquidity pools. The following brokers offer these features and much more:
Broker
Benefits
Regulation
Min. Deposit
Instruments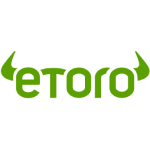 Trade cryptos 24/7, 365 days a year
Copy professional traders' crypto trades
Join a social trading community with over 6 million members
Wide crypto variety
Cross crypto trading
Advanced chart with crypto spreads displayed
Super fast setup
eToro USA LLC does not offer CFDs
EU – CySEC, MiFID
UK – FCA, MiFID
Australia – ASIC
$10 in UK and USA, $50-200 elsewhere
70+, including Bitcoin (BTC), Ethereum (ETH), Litecoin (LTC), Dogecoin (DOGE), and Decentraland (MANA)
This ad promotes virtual cryptocurrency investing within the EU (by eToro Europe Ltd. and eToro UK Ltd.) & USA (by eToro USA LLC); which is highly volatile, unregulated in most EU countries, no EU protections & not supervised by the EU regulatory framework. Investments are subject to market risk, including the loss of principal.
2:1 and 25:1 leverage on Litecoin (EU/non-EU)
A wide variety of cryptocurrencies
Lower spreads for cryptocurrencies
Crytpo autochartist (award-winning technical analysis tool)
Comprehensive crypto trading education
Fast transactions
SSL secured online trading platform
9 cryptocurrencies offered!
AvaSocial
EU – MiFID
UK – FCA
Australia – ASIC
Japan – FSA
South Africa – FSCA
Middle East – FRSA
Israel – ISA
$100/$100 AUD/€100/£100, depending on location
9 including: Bitcoin (BTC), Ethereum (ETH), Ethereum Classic (ETC), Litecoin (LTC), Ripple (XRP), Stellar (XLM) and Dash (DASH)
FX Leaders Cryptocurrency Broker Review
When trading cryptocurrencies, it's vital to use a trustworthy forex broker who is regulated by at least one reliable financial authority. Other aspects of cryptocurrency trading, such as:
The spread (cost of trading)

The leverage offered

The range of tradable cryptocurrencies
should also be considered when selecting the best broker to meet your crypto trading needs. 
Take a look at what these remarkable cryptocurrency brokers have to offer:

eToro
Setting the Standard in Cryptocurrency Trading

With eToro, the world's largest and most established social broker, you can trade several cryptocurrencies with the following advantages:
No commission or rollover charges on long (buy) trades
Competitive spreads
Failsafe flash crash protection
Trade cryptocurrencies 24/7, 365 days a year
Copy cryptocurrency specialists' trades for free
Earn commission on cryptocurrency trades as a popular investor



With more than 28,000,000 registered users, eToro is the giant leader of the retail trading industry. This dynamic social broker is dedicated to providing its members with the best trading experience possible. Start trading cryptocurrencies and hundreds of other assets on

 eToro today!

Highly volatile unregulated investment product. Your capital is at risk.

Avatrade
The Veteran Award-Winning Broker

Avatrade offers CFD trading on all the major cryptocurrencies. The advantages Avatrade offers with trading cryptocurrencies include:
Avatrade is a safe and regulated broker – regulated by 7 institutions
No commission or additional fees (above the spread) on cryptocurrency trades
Fast and reliable trade execution
Top-class customer service
Trade 9 cryptocurrencies on MT4 or AvaTraderACT



Avatrade has taken the retail trading industry by storm. With a wide range of financial instruments, including 9 prominent cryptocurrencies, this broker has equipped thousands of traders with some of the best trading tools and platforms available

. Start trading cryptocurrencies with Avatrade today!

Establishing Value: The Cryptocurrency Broker And Trader
The crypto market started more than a decade ago with the first decentralized cryptocurrency: Bitcoin (BTC). Bitcoin was invented in 2008 by the pseudonymous Satoshi Nakamoto, a figure that remains shrouded in mystery to this day. Nakamoto sought to develop a decentralized peer-to-peer electronic system to facilitate the transfer of digital money without needing a bank.
Instead of a central banking authority being commissioned to dictate how digital currencies should work, cryptography combined with blockchain technology is used to create a self-governing ecosystem. Traders and brokers saw value in this and quickly adopted crypto into their trades and platforms.
Without the need for an official overseer, Bitcoin has proved to be an exciting innovation in global commerce, with thousands of cryptocurrencies spawning from the simple idea of a digital currency. Within a decade, the performance and valuation of Bitcoin and other cryptocurrencies exceeded the wildest dreams of even the most ambitious crypto traders and brokers.
Leading Cryptocurrencies And Altcoins
Competitors to Bitcoin are simply known as "altcoins". These altcoins offer even more volatility than the king of cryptocurrency and can provide fantastic gains for active traders. Today, several of the leading names in crypto are Bitcoin (BTC), Ethereum (ETH), Ripple (XRP), Cardano (ADA), and Polkadot (DOT).
Throughout their history, cryptocurrencies have achieved unimaginable gains. Perhaps the best example of this phenomenon has been the performance of Bitcoin. At its launch in 2010, BTC was initially worth $0.08; fast-forward to the bull market peak of 2021, where prices hit just below $69,000. This represents a mind-boggling increase of over 860,000,000% in just 13 years, making it the best-performing asset class many traders had ever seen.
While altcoins haven't seen as much of an increase (yet), there are other notable examples. Launching for $3 in 2015, Ethereum (ETH) has had a similar meteoric rise, peaking at just under $4900 in late 2021. While it might not be in the millions like Bitcoin, Ethereum saw an over 160,000% price increase in this period. Not bad for just six years!
Trading Cryptocurrencies
Of course, such excessive gains in value come at the cost of price stability. Cryptocurrencies are extremely volatile and exciting instruments to trade, but can be dangerous if you don't manage your risk correctly. 
Breaking news, market sentiment, regulatory issues, and rumors often dictate market behavior. To achieve sustained profitability in the crypto market, you must be up-to-date on current events and ready to handle more risk and volatility than traditional markets like forex.
The crucial first step on your path to profitability is ensuring that you have a robust platform and strong trading framework. Simply put, make sure you team up with the right cryptocurrency broker to leverage your chances of success!
Not sure where to start with a crypto trading strategy? Check out our article on the best crypto trading strategies today!