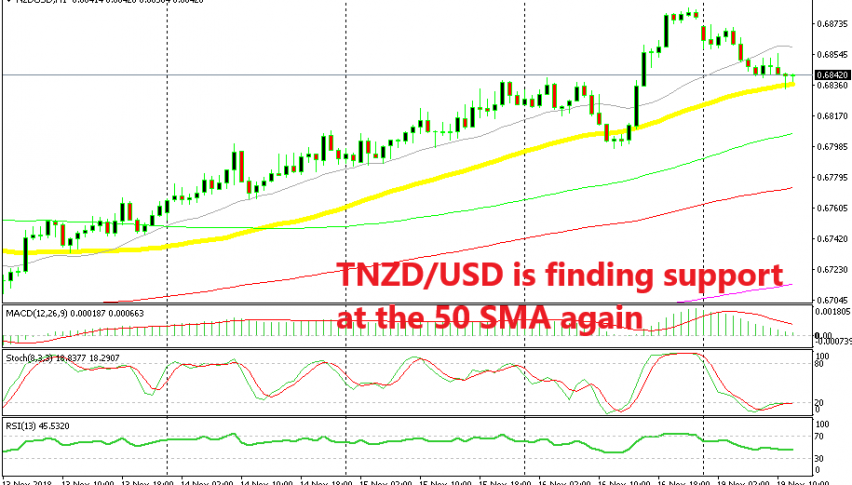 Putting Our Trust on the 100 SMA in NZD/USD Once Again
Last Friday, we went long on NZD/USD as this pair was retracing lower. NZD/USD has been trading on a bullish trend in the last three weeks and, last week, the uptrend was very straightforward. The 20 SMA (grey) was providing solid support all week, but on Friday, the price dipped below it and also dipped below the 50 SMA (yellow) but only slightly.
The candlesticks formed two dojis on the H1 chart, as you can see, and as the stochastic indicator was oversold, we decided to give the upside a try on this pair and it proved to be the right decision as the uptrend resumed again after that dip.
Today, NZD/USD is going through another bearish retrace. This pair opened with a small bearish gap last night and it has been sliding lower during the Asian and the European session. Right now, the price has retraced around 50 pips lower from the highs on Friday evening.
The price reached the 50 SMA (yellow) in the last hour, but it seems like this moving average is providing support again. The stochastic indicator is oversold and the previous H1 candlestick formed a pin, which is a bullish reversing signal after the bearish retrace. So, we decided to try our luck once again from the 50 SMA and we just opened a buy forex signal.
The only problem I see for this forex trade today is that the commodity currencies are under a bit of a selling pressure. While EUR/USD and GBP/USD have made another bullish move this morning, AUD/USD and NZD/USD haven't been able to follow them higher. Instead, these pairs have slipped lower as the market sentiment has turned slightly negative.
So, the price action is not favourable for our trade, but the technical analysis is strongly pointing up. Besides, the sentiment might turn positive again, which we hope it does since it would push commodity Dollar higher.