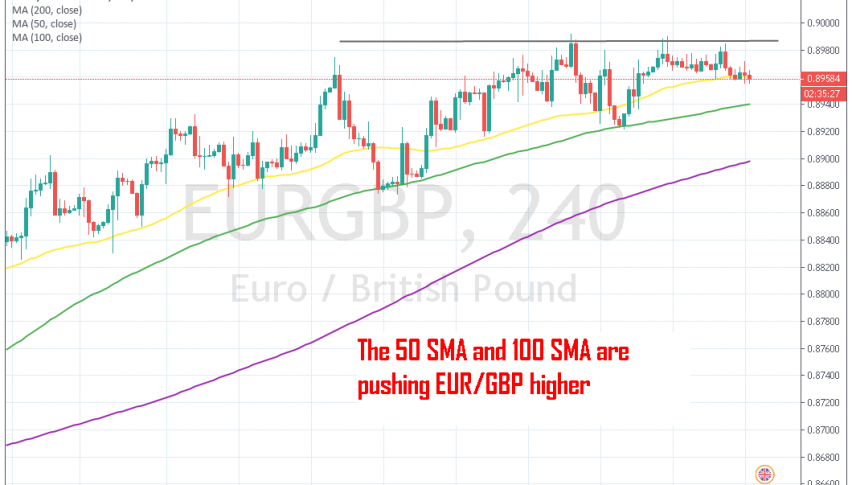 Go Long on EUR/GBP Now or Wait for the 100 SMA to Catch Up?
EUR/GBP has been pretty bullish as you'd expect now that Brexit is heading towards a dead end and the UK politics are in a mess. The situation regarding the Euro is really negative as Germany heads towards a recession, which was confirmed by the surveying firm Sentix today. If you missed it, the investor confidence in the Eurozone today which we covered on our forex calendar section, deteriorated further and is now deep in negative territory.
But, the UK and the GBP are in a worse position, that's why we have seen this pair climb around 5 cents in the last several weeks. During this uptrend, EUR/USD has been finding support at the 50 SMA (yellow) and the 100 SMA (green), which have pushed the trend higher for this pair.
The pullbacks down to these moving averages have provided traders with great opportunities to buy. The trades have been pretty simple – wait for a retrace to either one of these MAs and then go long with a stop below them, rinse and repeat. Today we are seeing another pullback lower and we are trying to decide whether to go long now at the 50 SMA or wait for the price to decline to the 100 SMA.
Although, it looks like the 50 SMA might be broken soon as the price is slipping below it, so I think I will wait for the 100 SMA to catch up, since it would offer a better risk/reward ratio and better odds for buyers. The 100 SMA is not too far, only about 20 pips lower, so let's wait for it. We are not running out of time, are we?