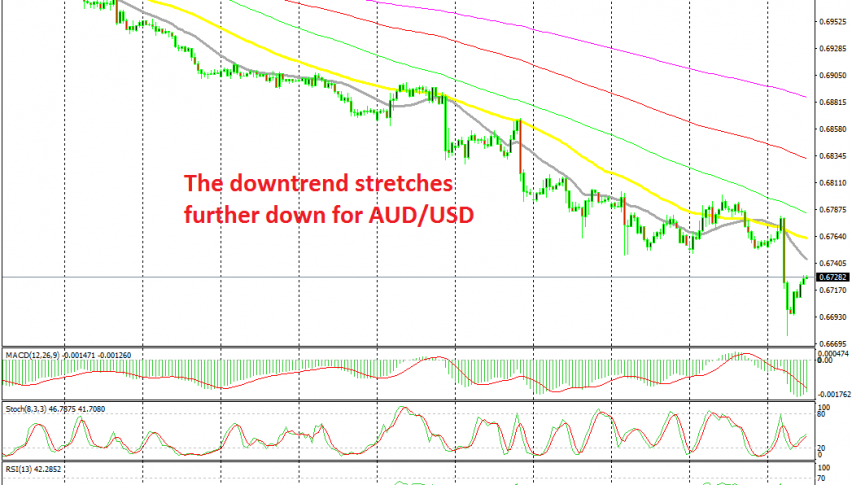 Getting Ready to Short the Retrace in AUD/USD Again
I have been posting quite a few updates on AUD/USD as well as on NZD/USD recently, but that's because we have been opening quite a few trades in these pairs during the last three weeks. Both pairs have turned really bearish as the escalating trade war hurts the sentiment, which in turn hurts risk assets such as commodity Dollars. But their biggest risk is from the weakening economies of Australia and New Zealand as a result of lower imports from China.
So, they have been sliding lower and we have been selling the pullbacks higher. The pullbacks have been pretty weak as you can see from the H1 chart above. They have ended either at the 20 SMA (grey) or the 50 SMA (yellow) on this time-frame. The smallest period MAs are pushing these pairs lower on the smallest time-frame chart, which shows that the trend is really strong.
Yesterday, AUD/USD retraced above the 50 SMA and we had a live signal from Monday which we opened at the 20 SMA. We left that trade on last night, while this morning we woke up to see this pair had fallen more than 100 pips. The Reserve bank of New Zealand (RBNZ) cut interest rates by 50 bps while markets were anticipating a 0.25% rate cut, sending the Kiwi 180 pips lower, which dragged the Aussie lower as well.
Our forex signal hit the take profit target, so it was closed overnight. Now both pairs are retracing higher after the decline and we are thinking of opening another sell signal. AUD/USD has climbed around 60 pips higher now, but I am waiting for the price to reach either the 20 SMA or the 50 SMA. I will wait for the 20 to catch up, but won't go short immediately from there. I will wait to see the price action around the 20 SMA and if we get a reversing signal then I might pull the trigger there. Otherwise, I will wait for the 50 SMA to catch up.