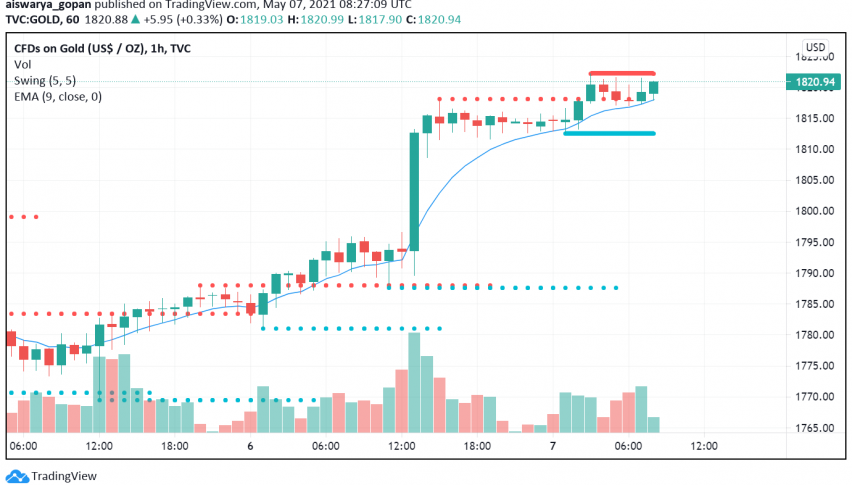 Gold Trades at Multi-Week High as US Dollar, Bond Yields Ease
Gold is holding close to the highest level seen in over 10 weeks early on Friday, supported by a weakness in the US dollar ahead of the release of April's non-farm payrolls report due later today. At the time of writing, GOLD is trading at a little above $1,820.
Gold prices are also strengthening on the back of a decline in US Treasury yields, with the benchmark 10-year Treasury yields dropping close to the lowest levels seen in around two weeks. Lower bond yields decrease the opportunity cost of holding non-yielding bullion, making it an attractive investment to turn to.
Despite indicators of economic recovery across the US and several other parts of the world, the safe haven appeal of gold remains supported by worsening conditions across Asian countries, especially India and Japan. Both economies are suffering under the latest waves of the pandemic that are hampering economic activity even though governments have not yet imposed nationwide lockdowns in both regions.
Gains in gold, however, remain limited on account of an encouraging weekly jobless claims report from the US which revealed that the number of Americans filing new claims for unemployment benefits fell to the lowest level seen since the beginning of the coronavirus pandemic over a year ago. The figure fell to 498k for the previous week, helping boost investor confidence in the US economy and sending traders away from the safety of the yellow metal and towards riskier assets, especially equities.