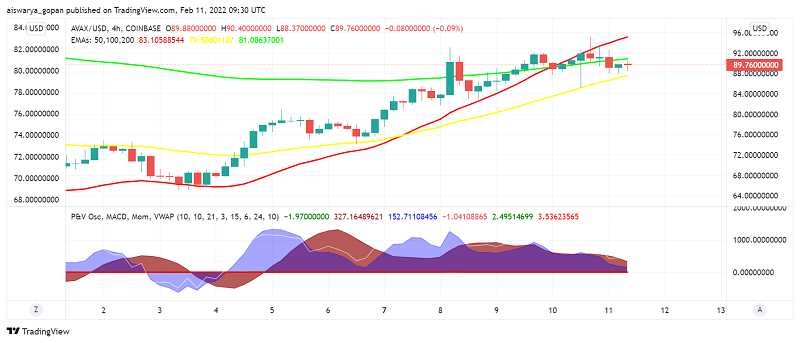 What's Driving The Bullish Moves in Avalanche (AVAX)?
Early on Friday, Avalanche (AVAX) is making its way higher after suffering some losses in the previous session when the crypto market took a hit following the release of a stronger than expected inflation report from the US. At the time of writing, AVAX/USD is trading around $89.76.
One of the biggest reasons behind the rise in AVAX lately is investors cheering the DeFi TVL of the Avalanche ecosystem crossing $10 billion earlier this week. At present, the figure stands at $10.82 billion as crypto traders return to the market and DeFi applications receive high levels of activity once again, following somewhat of a slump in recent weeks when Bitcoin remained under the key $40,000 mark.
Trader Joe, the second largest DeFi protocol on the Avalanche network by TVL, has seen a sharp uptick in activity in value after rolling out a liquidity launch program, Rocket Joe. The liquidity platform has helped bring new projects on staking pools on the dApp and helped drive up on-chain activity on the blockchain, lending support to the AVAX token.
At the beginning of this week, there was more good news in store for AVAX investors after multi-chain DeFi wallet Pillar Wallet added support for the Avalanche ecosystem. With this development, the DeFi sector on the network received an additional boost of interest, as the wallet supports EVM-compatible chains and can increase the number of users accessing dApps in this space on the blockchain in the future.
Speaking of DeFi, a new application GMX – a decentralized spot and perpetual exchange offering low swap fees and zero price impact trades, has recently gone live on the Avalanche network. The dApp brings exciting features such as low slippage spot and perpetual trading to DeFi users and can increase the network's DeFi related activity and TVL further in the coming weeks and months.
AVAX/USD Technical Analysis
According to popular crypto channel InvestAnswers, AVAX appears to be overbought and could be approaching the end of a potential rally. After being rejected at $95, the cryptocurrency could experience some price correction before attempting another leg higher after some sessions.
On the 4-hour price chart of AVAX/USD, almost all moving averages as well as leading technical indicators MACD and momentum are exhibiting a strong bullish bias. This looks like a good time to get in on a buy trade in the crypto pair.
Avalanche is trading above the pivot point at $74.76 and has crossed the first resistance at $85.28 as well. It looks like buyers are trying to build up momentum to take on the next resistance at $91.51 next, so let's keep an eye on this level for now.