Cryptocurrency Live Prices
<% (signal.LiveSignals[0].rate+'000000').substr(0,7) %>
<% (signal.Current.rate+'000000').substr(0,7) %>
<% signal.Current.percentage %>%
<% signal.Current.volume %>
Cryptocurrency Guides
Feel like you lack some basic information? Need more tools to add to your trading toolkit? We invite you to read our educational in-to-depth guides on crypto trading.
Cryptocurrency Charts
Cryptocurrency Strategies
Our trading analysts are happy to share their trading strategies, tips and knowledge based on their experience in crypto trading. Most of the strategies we write about are focused on technical analysis and popular indicators, such Bollinger Bands, Moving Averages, Parabolic SAR, and more.
Crypto Price Predictions
Ethereum has seen a lot of volatility in 2021, starting the year at around $600, and judging by the price action. Full Article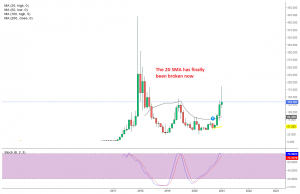 Litecoin surged to $ 185 in recent months as a safe haven, but has retreated lower in recent weeks Full Article