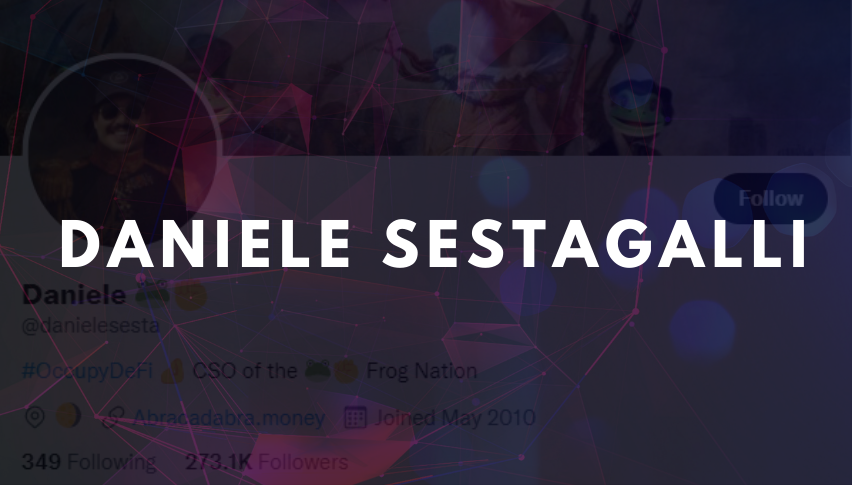 Who is Daniele Sestagalli? Learn about Time, SPELL, and Popsicle
Posted Wednesday, January 12, 2022 by
Arslan Butt
• 6 min read
Have you heard of Daniele Sestagalli? This man is responsible for 3 of the most successful projects in the DeFi space, with a combined market cap of 6.5 billion dollars (including MIM), and a total value locked at 6.7 billion between all projects. Also, MIM is the stable coin in the Sestagalli ecosystem's 6th largest stablecoin by market cap.  Once we have discussed this, we'll move on to discuss his creations, Time, SPELL and Popsicle.


Daniele Sestagalli – Who is he really?
Daniele Sestagalli has a long history in the blockchain business. He has stated in various interviews that he began using Bitcoin in 2011. We don't know much about him, but his project, Zulu Republic, impacted the industry in 2018. On his LinkedIn profile, Daniele claims to speak Italian, Spanish and English, although the consensus is that he is Italian. 
It appears that by the beginning of 2021, Daniele Sesta was busy developing a model for the music industry that would benefit both musicians and the industry itself. The purpose was to "build a blockchain foundation for everyone involved in music." This was done to assist artists with copyright protection, to help them earn money more easily, and to use the blockchain sector to modernize the music industry. You can watch his interview on the subject right here.
But, all of a sudden, the world appeared to have turned upside down, and Daniele Sestagalli came up with three items that genuinely turned the blockchain sector on its head. 
First, using the efficiency, transparency, security, and decentralized nature of the blockchain. 

Crypto technology to improve the music industry remains an attractive concept. 
Second, Pollstar reached out to Sestagalli to learn more about what makes Utopia Genesis unique, as well as his vision for the future of music.
Zulu Republic's CEO (2018)
This was planned to be a blockchain project that would run on the Ethereum network. The project's website is no longer operational, but the stated purpose of the initiative is as follows:
The Zulu Republic is a digital platform ecosystem based on the Ethereum blockchain, focused on and motivated by the conviction that decentralized collaboration is the future of human protocol. With an emphasis on unrivaled user experience, Zulu Republic's objective is to make it simpler than ever for individuals to enter the cryptocurrency revolution, entrusting them to take control of their own financial lives.
In 2018, Daniele was also a speaker at a Litecoin summit, as a representative of the Zulu Republic. The panel discussion is available on YouTube.
Daniele Sestagalli and Andre Cronje collaborating on Fantom?
Daniele Sestagalli and Andre Cronje, two of the most respected experts in decentralized finance, have hinted at a new product and token launching this month on the Fantom blockchain.
Cronje, the prolific coder and renowned DeFi creator best known for establishing the yield optimization tool Yearn.Finance, initially announced a new project on Fantom at the beginning of the month. "This month, I'm launching a new experiment on Fantom," he tweeted on January 1.


Cronje and Daniele Sestagalli, the founder of Abracadabra, Wonderland.Money and Popsicle.Finance are working on the project together. On Twitter, Sestagalli announced the collaboration between the Frog Nation and Cronje, saying that the launch will start with "Fantom Season!"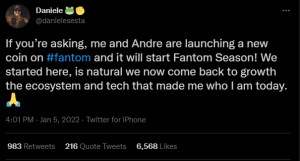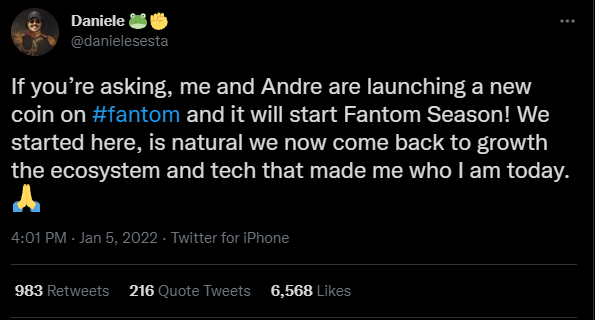 MIM (Magical Internet Currency): Challenge MakerDAO?
Daniele Sestagalli's popularity has risen dramatically due to Abracadabra's rapid success. Users can borrow the US dollar stablecoin MIM (the magical Internet currency) from Abracadabra by depositing interest-bearing assets. It currently supports Ethereum, Binance Smart Chain, Avalanche, Fantom, and Arbitrum One and has included farming, lending, pledge, trading, and cross-currency Chain bridge capabilities. 
Abracadabra leverages the benefits of multi-chain deployment, support for the usage of different interest-bearing assets, and a small number of cryptocurrencies to borrow stablecoins to aid enhance fund utilization. However, it is not unreasonable to claim that it is a challenge to MakerDAO, the leading project of the stablecoin protocol, such as MIM circulation. 
It now owns 26 percent of Dai and has surpassed the US$1.8 billion mark. CoinGekco data has surpassed Pax Dollar (USDP) and TrueUSD (TUSD) in terms of stable currency circulation and now ranks sixth; the lock-up volume has reached one-fifth that of MakerDAO. SPELL now has 23,000 addresses, which is over one-third of MKR; sSPELL's fee income on the Ethereum chain in the last week is double that of MakerDAO.
What is a Spell Token (SPELL)?
Spell Token (SPELL) is a reward token affiliated with abracadabra.money, a lending platform that employs interest-bearing tokens (ibTKNs) as collateral for borrowing Magic Internet Money, a USD-pegged stablecoin (MIM). Abracadabra employs SushiSwap's (SUSHI) Kashi Loan Technology to establish segregated lending markets that allow customers to adjust their risk tolerance, based on the collateral they choose to utilize. 
Users can deposit collateral and borrow MIM in exchange for it. Abracadabra also provides yield farming options, where users can farm SPELL by staking their liquidity provider (LP) tokens. This improves liquidity for specific cryptocurrency pairs, including Ether (ETH)-Spell, Token (SPELL) and Magic Internet Money (MIM)-LP 3pool Curve (3CRV). Additionally, customers can open leveraged agricultural positions by borrowing MIM from their interest-bearing collateral.
SPELL is the governance token that may be staked to receive revenue from the protocol. There is a maximum quantity of  210 billion Abracadabra magic token SPELL coins. On Ethereum, the SPELL contract 0x090185f2135308BaD17527004364eBcC2D37e5F6 is currently active. The SPELL token's main purpose is to be staked in Abracadabra, to obtain SPELL tokens, which offer various advantages.
What is the purpose of the Spell Token (SPELL)?
First, they give holders voting rights over platform features, including TVL, liquidation fees and future collateral alternatives, among other things.
Second, they provide holders with a claim on the protocol's fees.
The protocol fees were mainly derived from interest on borrowed MIM at the time of the launch. Fees are collected once the debt has been paid in MIM. Here, you can see how they are distributed:
The remaining 25% is made up of purchased SPELL tokens for sSPELL token holders.
The governance treasury will get 20% of the funds, which will be used to incentivize MIM liquidity pools.
5% is sent to a multisig treasury – this will be utilized to intervene in market situations.
What is Wonderland TIME Token?
Wonderland is a protocol developed on the Avalanche network. It is the network's first decentralized protocol. Its native token, TIME, is backed by a treasury of other tokens. As a result, the TIME token has intrinsic worth, which means its price cannot fall. Wonderland's economic and game theory dynamics are available to users. This is accomplished by token staking and minting.
According to the developers, their primary goal is to create a monetary system governed by various regulations. As a result, the behavior of the TIME token will be consistent and stable. Users can utilize the TIME token to either exchange or hold these funds. The ultimate goal of the developers is for the system to generate income.
Why Should I Purchase a Time Token?
Purchasing and staking the TIME token is one of the most rewarding moves any trader can make. You now control a portion of the market cap supply, which remains close to constant, because when you bet and the circulating supply increases, so does the TIME balance of your stake. This means that if you can buy and stake TIME when its market cap is very low, you will be able to profit when it skyrockets.
Users trade their TIME tokens for MEMORIES when they bet on them. MEMORIES, like some other DeFi protocols, are transferrable. If a trader decides to unstake his TIME tokens, the MEMORIES will be burned, and he will receive the equivalent number of TIME tokens. Unstaked TIME tokens, on the other hand, will cease to generate rewards.
Time Price Prediction for 2022
What is Popsicle Finance (ICE)?
Yield optimization protocols, decentralized exchanges (DeXs) and lending/borrowing protocols are among the primary categories of the decentralized finance (DeFi) business. Many of these protocols automate the entire liquidity staking process to optimize yields.
One of these sites is Popsicle Finance. Its advantage is that it can optimize your investment across multiple blockchain networks.
Popsicle's native cryptocurrency, ICE, is presently trading at around $18, with a circulating supply of nearly 13 million tokens and a market capitalization of $314 million. CoinMarketCap ranks Popsicle between 2,500th and 3,000th among all cryptocurrencies. The total value locked (TVL) on the Popsicle platform is estimated to be around $32 million.
Popsicle Finance claims to be a next-generation yield optimization platform powered by (to begin with) Sushiswap, Uniswap and Pancakeswap. It's a fully decentralized network administered by its users, the ICE governance token holders. The ICE will be employed to vote on protocol changes, pool inclusions, fee management and other essential operational issues.
Popsicle Finance focuses on AMM Liquidity Providers (LP) and will manage liquidity across several chains to improve capital efficiency and automatically offer its users the maximum potential income on assets deployed to liquidity pools. Community, security, efficiency and opportunity are all qualities that Popsicle Finance holds onto firmly.
Popsicle Finance: How Does It Work?
Popsicle's main product is known as the V3 Optimizer. It provides yield optimization across a total of 14 swap pools. Each swap pool is comprised of two cryptocurrencies that are traded on various deX platforms. More pools are planned for the project in the future.
The present pools all share one coin – wrapped Ethereum (WETH). Each of the 14 pools represents a WETH-to-second-coin pairing exchanged on DeXs with WETH. Available pools include WETH/USDT, USDC/WETH, WETH/ICE and FTM/WETH.
The liquidity pools feature annual percentage rates (APRs) that indicate the projected return, which currently ranges from 20% (for WBTC/WETH), to 441% (for WETH/ICE). It is no surprise that the pools with the highest APRs are the most popular.