Polkadot (DOT) Price Prediction For 2021: Can DOT Bounce off Over Double Bottom Support?
Polkadot (DOT) – Forecast Summary
Polkadot Forecast: H1 2021


Price: $50 – $60
Price drivers: Positive crypto sentiment, ETH performance, USD devaluation, technical resistance at $20.00, potential regulation

Polkadot Forecast: 1 Year


Price: $100
Price drivers: Bullish crypto sentiment, USD devaluation, expansion of the blockchain

Polkadot Forecast: 3 Years


Price: $200 – $300
Price drivers: USD rebound, end of COVID-19, increased cryptocurrency regulation, decreased growth of blockchain due to government and central bank intervention
Polkadot was the very last of the main cryptocurrencies to follow the crypto craze which still continues, as this cryptocurrency increased above $ 42. But after a deep retreat at the end of February to $ 26, now buyers seem to be back in control, having pushed above $ 35 again. DOT/USD only started turning bullish in the last few days of December. On December 28 Polkadot was trading at around $ 5, but joined the bullish run in the crypto market and on February 23 it is trading at $ 37, after having retreated just below $ 30. This means that it appreciated more than eight times in a month and a half. The 20 SMA is also doing a good job on the daily chart, pushing the price higher, which is keeping polkadot absolutely surging, although it hasn't been able to catch up with the price since early February.
Polkadot started the year 2021 with a trading price of $9.12 at the start of January. With certain changes, the currency started to grow further. Following this, Polkadot took all measures targeting its $50 area. Dot hit $42.98 by Mid May. Afterward, it dropped into a bearish trap on May 19, when the entire market crashed and lost approximately 50%. Resuming the trade, it started surging slowly from this point. The Polkadot price is trading at USD 15.77 with a 24-hour trading volume of $1,384,094,903. Polkadot is down 2.49% in the last 24 hours. It is also worth mentioning that the current market ranking is #9, with a live market cap of $15,079,407,643. Polkadot has a circulating supply of 956,106,232 DOT coins, and the max supply is not available.
Recent Changes in the Polkadot Price
| | | |
| --- | --- | --- |
| Period | Change ($) | Change % |
| 1 Week | -4.46 | -27.39% |
| 1 Month | -7.05 | -43.30% |
| 3 Months | -21.34 |  -131.081 |
| 6 Months | +7.97 | +48.95 |
| May 2020 | +13.34 | +81.94% |
Like all cryptocurrencies, DOT is subject to a collection of unique market drivers. Among the most noteworthy are corporate rumors, governmental regulation, hacking, fraud, and litigation. However, where Polkadot is unique from other cryptos is its financial resources. Since its 2017 inception, Polkadot has raised approximately $200 million from investors via crowdfunding and multiple coin offerings. Accordingly, Polkadot ranks among the most well-funded blockchain startups in history.
Since the May 2020 launch of DOT, there has been controversy surrounding what makes Polkadot and Ethereum different. Due to the fact that the two cryptos share the same founder Gavin Wood, these concerns are legitimate. Both coins are similar in that they operate a primary blockchain that facilitates transactions and allows for the addition of smaller, independent blockchains. Also, both ETH and DOT rely upon "staking" instead of "mining" to ensure that the network grows efficiently. Lastly, efforts are being made to make inter-coin transactions between Ethereum and Polkadot possible. Given the striking resemblance of DOT's technology to ETH, it's little wonder that the two coins have exhibited periodically strong correlations. 
Factors Affecting Polkadot (DOT) 
In many ways, the valuation and growth potential of Polkadot will rely on the expansion of the blockchain itself. The primary objective of DOT is to act as a bridge between public and private networks. Basically, Polkadot aims at uniting the public blockchain to parachains. In the event mainstream cryptocurrency adoption sparks prolonged blockchain expansion, it is conceivable that Polkadot will be a vital part of the cryptocurrency ecosystem. Conversely, if central banking authorities and governments intervene, DOT valuations may stagnate amid regulatory concerns.
Polkadot (DOT): 5-Year Price Prediction
Accurately predicting the price action of any asset over a five-year period is a challenge. For a cryptocurrency such as Polkadot, even moreso. However, there are four market drivers highly likely to impact the long-run market value of DOT. On the bullish side of the equation, devaluation of the United States dollar (USD) and blockchain expansion fuel the upside prospects of Polkadot. Nonetheless, bearish factors such as central banking policy and governmental intervention threaten not only DOT but the entire crypto asset class. While time will be the ultimate judge of how Polkadot performs, we can account for these factors and their potential impact on DOT pricing.
How Will Inflation And US Dollar Devaluation Impact DOT?
One of the greatest factors facing cryptos is the welfare of the US dollar. Beginning with the U.S. government and Federal Reserve (Fed) response to the coronavirus (COVID-19) pandemic, the USD has struggled to hold its value. In order to combat the economic fallout from COVID-19, the U.S. government under the Trump administration passed the $2 trillion dollar CARES Act. Under CARES, enormous volumes of direct stimulus payments were sent to citizens and disaster relief funds allocated to businesses. To complement the CARES Act, the Fed launched  the open-ended program of unlimited quantitative easing (QE). Both policies expanded the supply of dollars to unprecedented levels, sending the USD Index lower by 6.8% for 2020. 
Moving into 2021 and beyond, more stimulus and Fed QE are certainties. One of the first actions of U.S. President Joe Biden was to announce plans for a $1.9 trillion COVID-19 relief package to be launched in early-2021. In addition, the Fed pledged to maintain debt purchases at $120 billion per month and hold interest rates firm at 0.0-0.25% until maximum employment, 2% average inflation, and target economic growth was restored. Although these policies will promote growth, the long-term ramifications facing the USD are bearish. In the event that new COVID-19 strains prolong these recovery-oriented policies for several years, dollar devaluation and inflation are probable. For DOT, a weak dollar is likely to be a bullish market driver. As the dollar fades, investors will be looking to store capital in other assets; commodities, equities, and cryptocurrencies are all viable alternatives to the USD.
Will Polkadot And The Blockchain Go Mainstream?
Since Bitcoin's launch in 2009, the financial world wondered if and when blockchain technology would go mainstream. Following the cryptowinter of 2018, it appeared as though cryptos were soon to be an afterthought. However, with the onset of COVID-19 and spiked demand for digital currencies, Polkadot's technology became a sought-after commodity.
An initial factor that attracted legions of serious investors to Polkadot was its growth potential. The primary aim of Polkadot is to boost the interoperability between public and private blockchains. If the technology becomes widely integrated, it could become the de facto "bridge" between networks, blockchains, and cryptocurrencies. In simplest terms, Polkadot is positioned to grow as the blockchain grows ― a potentially lucrative correlation.
Estimates from early-2020 anticipated the global blockchain market size to increase from US$3 billion in 2020 to US$39.7 billion by 2025. This figure is impressive and suggests an annual compound growth rate of 67.3%. From a practical standpoint, these growth figures represent mainstream adoption of various blockchain technologies. If realized, it's not out of the realm of possibility to see DOT valuations grow in tandem with the aggregate market. However, returns could be much higher if Polkadot ascends as the blockchain's premier translator.
Are Central Banks Going To Enter The Cryptosphere?
For any currency, crypto or otherwise, central banking authorities play an integral role in valuations. Although the likes of Bitcoin, Ethereum, and Polkadot are decentralized electronic forms of money, they certainly have the attention of the world's central bankers. Amid the 2020 COVID-19 pandemic, interest in cryptos exploded ― this didn't go unnoticed by the banks. In a statement from January 2021, European Central Bank (ECB) head Christine Lagarde had this to say about Bitcoin: "[Bitcoin] is a highly speculative asset, which has conducted some funny business and some interesting and totally reprehensible money laundering activity. There has to be regulation. This has to be applied and agreed upon…at a global level." Citing no specific evidence of such cases, Largarde showed motivation for the ECB to regulate Bitcoin and likely the entire asset class.
On the adoption front, the U.S. Federal Reserve appears to be developing its own central bank digital currency (CBDC). Statements from U.S. Federal Reserve (Fed) Chairman Jerome Powell from early-2020 outlined a potential launch of a "FedCoin": "We [FOMC] do thing it's more important to get it right than to be first. Getting it right means that we not only look at the potential benefits of a CBDC, but also the potential risks, and also recognize the important trade-offs that have to be thought through carefully." Since Powell said this, the Fed has built an experimental CBDC supposedly based on blockchain technology. At this point, it looks like it's only a matter of time before CBDCs become a part of mainstream finance.
So, what are the potential impacts of central bank intervention in the crypto markets upon Polkadot? First, the adoption of sweeping global regulation as suggested by Lagarde would increase reporting and limit transactions. Both of these issues would slow blockchain growth, rendering the scope of Polkadot's business. Second, the launch of CBDCs could severely impact the demand for cryptocurrencies as modes of transfer and stores of wealth. Once again, this is a negative market driver for DOT; if the world's central banks take over a significant portion of the blockchain, traditional expansion will be limited. This factor would reduce the market share of facilitators such as Polkadot. Should the blockchain become constricted or controlled, DOT will be in an extremely vulnerable position.
Is U.S. Government Regulation Inevitable?
The U.S. general election of 2020 brought a period of unprecedented political uncertainty to the global marketplace. Stocks, currencies, and commodities experienced heightened volatility as investors pondered the implications of an American regime change. Upon the final decision being rendered in early-January 2021, power in both the U.S. Congress and presidency shifted from Republican to Democratic control. However, despite the hotly contested electoral cycle, cryptocurrencies saw sustained bidding. DOT was no exception, rallying from $4.23 on 2 November 2020 to $17.99 as the new POTUS and Congress were sworn in on 20 January 2021.
Perhaps the single-largest driver of crypto volatility is government regulation. And, when projecting possible values of Polkadot over the next five years, it's important to consider the stance of the Joe Biden administration toward cryptocurrency regulation. Biden's talking points from the campaign trail didn't give crypto investors much food for thought. However, Biden did pick former Commodities Futures Exchange Commission (CFTC) head Michael Barr to lead the Office of the Comptroller of the Currency (OCC). Barr formerly served on Ripple's advisory board; if confirmed as OCC head, Barr will be the first crypto-insider to man the post. The implications could be big for regulation, as Barr may have innovative new ideas on how to regulate and control the blockchain. 
Within the Biden cabinet, there are a few members with track records vs cryptos. As Fed Chair from 2014-2018 , new Treasury Secretary Janet Yellen repeatedly took a hands-off approach to cryptocurrencies. Nonetheless, Yellen has stated that "she will say outright that she is not a fan," specifically of Bitcoin. Further, the U.S. Securities and Exchange Commission (SEC) has filed suit against Ripple (XRP) claiming that executives sold XRP for seven years without first registering them as securities. This litigation will establish precedent for companies that sold coins but did not conduct an initial coin offering (ICO). The fallout from SEC vs Ripple may prove extensive and further determine whether or not XRP, and cryptos in general, are securities or currencies. If the SEC is successful, DOT and the entire asset class is likely to undergo more intense scrutiny in coming years.
Ultimately, governmental interference is a negative market driver of cryptocurrency prices. Given the regulation-friendly Biden administration and potential SEC intervention, many coins may be edged out of the market. For Polkadot, it's important that 2021 is a robust year of blockchain adoption and operational growth. The regulatory environment for cryptocurrencies will evolve significantly in the coming five years — this could very well lead to a contraction of the asset class, making many coins obsolete. 
Polkadot (DOT) Technical Analysis
The DOT/USD is trading with a strong selling bias at $15.92 level, having dropped from the $19.44 level. On the weekly timeframe, the DOT/USD coin is trading in between a symmetrical triangle pattern, gaining immediate support at $13.27 and $19.44 levels. Bullish crossover of $19.44 level can extend buying trend until $26.52 resistance level. While the breakout of the $26.52 level can extend buying trend until $48. On the weekly chart, the formation of three black crows can extend the selling trend until the $13.27 level. On the technical side, the MACD and RSI indicators are holding below 0 and 50 levels respectively, demonstrating odds of selling trend continuation in DOT.
We can also see a double bottom pattern at the 13.27 level that's currently extending support to DOT prices. The DOT/USD coin can drive buying trend over this level until 19.44 and a breakout of 13.27 can drive selling bias in the DOT coin.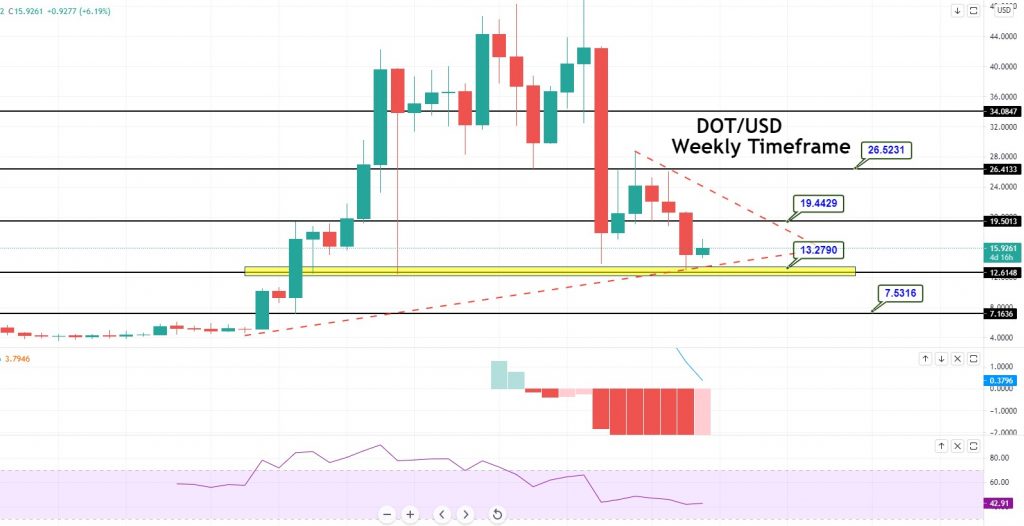 DOT/USD Weekly Timeframe – Double Bottom Pattern
On the daily timeframe, the DOT/USD coin's selling bias seems to get weaker. The DOT/USD is closing a series of Doji and Spinning top candles above the double bottom support level of 12.90 level. On the higher side, the breakout of $19.43 level can extend buying trend until the $26.71 level. Conversely, the violation of the $12.90 level can lead the DOT/USD price lower to $7.90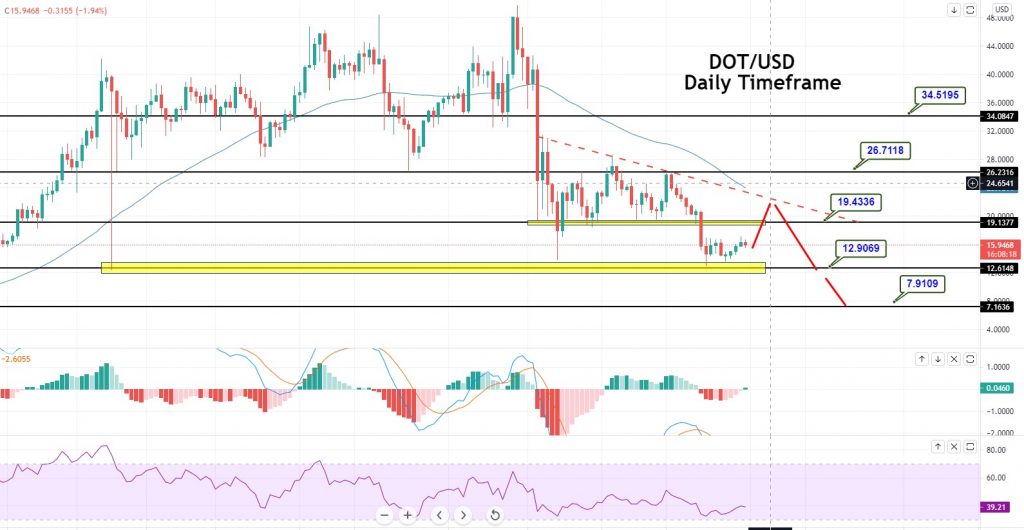 DOT/USD Daily Timeframe – Doji & Spinning Top in Play
Updated: June 30, 2021