FED Chairman Jerome Powell Speaks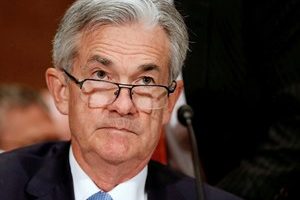 Event Date: Friday, August 26, 2022
Event Time: 14:00 CET
Will Powell Keep the US Bullish?
Updated Saturday, August 20, 2022
The USD dollar has been bearish for more than a year, with the FED being extremely accommodative. But, the Buck turned bullish after the last FOMC meeting on Wednesday last week, as the FED mentioned the beginning of the end for the extremely lose monetary policy. The US economy has improved considerably in recent months, which has forced the FED to change course but the USD declined after his speech following the 25 bps rate hike last week. So, there's a chance that Jerome Powell's speech might send the USD lower again today if he confirms such a bias. Please follow us for live coverage of this event by experienced market analysts. 
---
<% indicator.indicator_name %>
<% indicator.indicator_value %>
<% ssp.ssp_posted_at |date:"HH:mm" %>
About FED Chairman Jerome Powell Speaks
The Speech or the Press Conference from the FED Chairman Powell is a crucial event on the economic calendar. It is the public release of decisions made by the policymaking portion of the U.S. Federal Reserve (FED), the Federal Open Market Committee (FOMC). Upon the conclusion of an official FOMC meeting, the monetary policy decisions facing the USD are made public via press conference.
Markets are highly sensitive to the FED Chairman Jerome Powell press conference. Policy matters, economic forecasts, as well as the actual verbiage used are interpreted by traders and investors in a myriad of ways. Tone, content, and the type of language used by the FED chair is capable of sending USD valuations in any direction.