Litecoin Historical Price Charts – LTC Price History
Posted Wednesday, October 21, 2020 by
Arslan Butt
• 2 min read
Litecoin is the 10th largest network by market cap in the digital currency market. It is a decentralized, open-source, peer-to-peer, global payment network that has no central authority. Litecoin is just like Bitcoin but with faster transaction speed and lower processing fees. The developers of Litecoin even said that Litecoin was created as the silver standard to Bitcoin's gold standard.
Litecoin was developed and created by a former Google software engineer, Charlie Lee, in October 2011. Litecoin developers intended to provide an alternative solution to Bitcoin's late confirmation of block transactions. The maximum supply of Litecoin is 84,000,000 LTC, and the current circulating supply is 65,644,915. Litecoin posted its highest price on December 18, 2017, at $372.22.
Current LTC/USD Price: $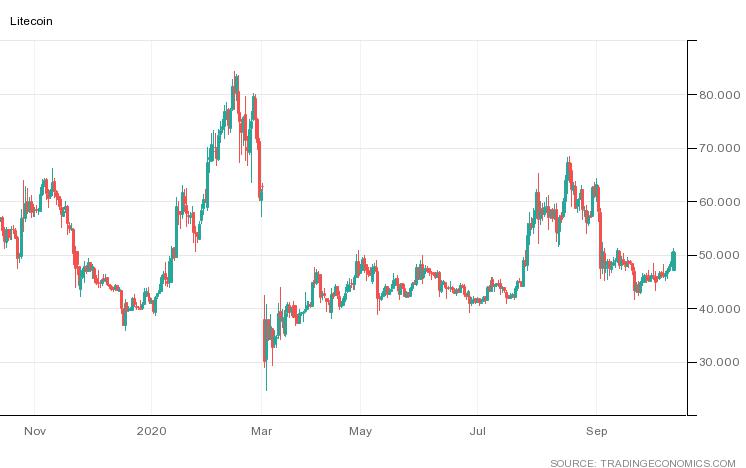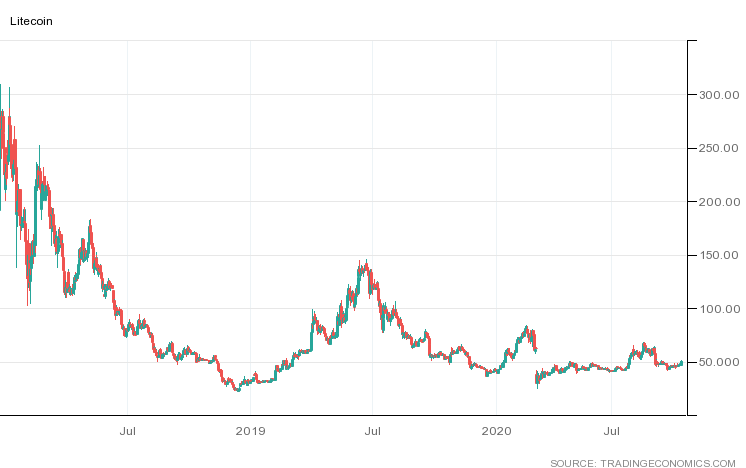 Factors Impacting Litecoin Prices:
Litecoin's Adoption:
The more parties that accept a cryptocurrency, the more value it will provide to the same cryptocurrency. The adoption of cryptocurrency by users is the first most crucial factor that influences its prices. Litecoin's adoption has been increased and steadily grown over the years.
The partnership of Litecoin with 'Spend' announced on 13th February 2019 proved very useful for it. Forty million locations increased the number of locations Litecoin could be spent after its partnership with 'Spend.' After that, tens and thousands of merchants worldwide adopted the Litecoin, and the numbers were still growing. The more merchants adopt it, the more attractive it gets, increasing prices and vice versa.
Transaction fees:
One of the original motivations for digital currency like Litecoin was the vision to reduce transaction fees. Bitcoin transaction fees are comparatively higher than Litecoin's, and it is one of the main reasons for the popularity of Litecoin. LTC's decreased transaction fee makes it a more valuable medium of exchange, leading to increased LTC prices.
Some updates are released by Litecoin developers to make it more reliable and demanding. A Litecoin Core 0.17.1 that was released in March 2019 had a feature to reduce Litecoin's transaction fees by 10x. This release caused an immediate climb in LTC prices.
Any such release in the future will have a positive impact on Litecoin prices whereas, any release in contrast with it, which would increase the transaction fee, will hurt Litecoin's prices.
Supply and Demand:
The price of Litecoin is determined by its availability, the maximum supply of Litecoin is 84,000,000 LTC, and the current circulating supply is 65,644,915. The remaining 18,355,085 LTC are left to be mined. The supply of Litecoin will remain the same, and as the demand goes up, it will eventually reach a point where no LTC left to be mined, and then the price will reach an extremely high level.
News and Media:
Any positive or negative news has a certain effect on the cryptocurrency market. If there is any report about a recent hack in Litecoin or fraud-related news circulating in the media, it will most likely drive the LTC prices on the downside. On the other hand, news about the rising adoption of Litecoin and coverage about its benefits will result in higher prices of Litecoin.
Utility:
If a coin serves no purpose in the cryptocurrency market, its price is more likely to decrease and vice versa. Litecoin, just like its competitors, has been used as an online payment system. Litecoin can be used to transfer currency to one another, just like the bank's online network or PayPal. Any news about the increased utility of Litecoin will have a positive effect on Litecoin and vice versa.