Economic Calendar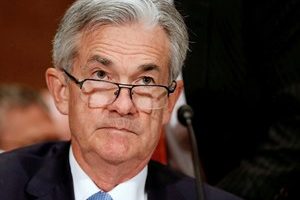 FED Chair Jerome Powell Speaks

FOMC Press Conference
Press Conference After Rate Hike
Starts Wednesday, October 17, 2018 at 03:58
Updated Monday, September 24, 2018
The FED is expected to increase interest rates by 0.25% in this meeting, but that is already priced in by the market. The attention of the market is expected to shift quickly to the statement and the press conference. Will the FED sound hawkish and hint at another rate hike this year? If that is the case, then the market is going to pile on the USD which would resume the uptrend. If Jerome Powell closes the door for another rate hike, then that might be it for USD bull run. Please follow us for live coverage of this event by experienced market analysts and the impact it might have on the USD. 
---
<% indicator.indicator_name %>
<% indicator.indicator_value %>
<% ssp.ssp_posted_at |date:"HH:mm" %>
About FOMC Press Conference
The FOMC Press Conference is a crucial event on the economic calendar. It is the public release of decisions made by the policymaking portion of the U.S. Federal Reserve (FED), the Federal Open Market Committee (FOMC). Upon the conclusion of an official FOMC meeting, the monetary policy decisions facing the USD are made public via press conference.
Each FOMC Press Conference is delivered by the acting FED chair and presented to media outlets in a public forum. Statements issued by FED chair are written in advance, with printed transcripts available.
Markets are highly sensitive to the FOMC press conference. Policy matters, economic forecasts, as well as the actual verbiage used are interpreted by traders and investors in a myriad of ways. Tone, content, and the type of language used by the FED chair is capable of sending USD valuations in any direction.