Tixl (TXL) Price Prediction for 2021: Bears are back as TXL nears all-time lows
Current Updates
The cryptocurrency market has been in a shambles for weeks, since Bitcoin (BTC) drastically fell, almost to levels of $40,000, after hitting a new all-time high of $69,000 just last month. Ethereum and other major altcoins followed suit as the bleeding continued to bring a sea of red to the entire cryptocurrency market. Tixl (TXL) was dragged down as well, with it trading near all-time lows of $0.02958421. TXL is currently trading at $0.1510, which means a drop of 25% in a month and a whopping 80% fall from all-time highs of $0.812598, which it reached on March 29, 2021.
Tixl (TXL) – Forecast Summary
Tixl Forecast: H4 2021
Price: $0.35 – $0.40
Price drivers: China crackdown on cryptos, Crypto market sentiment
Tixl Forecast: 1 Year
Price: $0.65 – $0,70
Price drivers: Tixl progress, Crypto market sentiment, DeFi world
Tixl Forecast: 3 Years
Price: $2.50 – $3 
Price drivers: Global politics on crypto, Cross chain liquidity pools
The cryptocurrency market continues to expand as the Decentralized Financing (DeFi) world keeps evolving out of the traditional fiat currency system. Many new digital coins have popped up and many more will in the near future. The Tixl token is one of them, coming about in 2020 by the German company Elbstack GmbH which consists of an experienced team currently building a high-performance network for a new era of Decentralized Finance (DeFi), payments & banking. The lifespan of the coin has been short and the overall value remains below $1, although it is trying to get established and with the recent developments, as well as with the upcoming ones, the use of the Tixl token will increase.     
The network where Tixl (TXL) runs in the interoperable layer 1 Autobahn network which can support instant transactions with minimal fees, while transactions carried out through Tixl are free for digital assets or tokens or any transfer of data and in general. Tixl traded between $0.03 and $0.05 for several months before it joined the crypto rally in February, increasing to $0.81 by the end of March. Although it came down eventually and trades around $0.21 as of November 4, 2021.
Tixl (TXL) has been trading within a range between $0.15 and $0.40 for a number of months, and has seen most of the volume trade around $0.15. For the time being, we will be looking for a break of that range and in particular, the $0.30 to $0.40 levels, to show us that the bearish trend has ended. However, for the time being, Tixl's bears have not disappeared entirely, as the current price is nearing major support levels. If the price does not bounce and proceeds to breakthe support, TXL may revisit previous all-time lows.
Recent Changes in the Tixl Price
| | | | |
| --- | --- | --- | --- |
| Period | Price | Change $ | Change % |
| 1 Month | 0.201900 | -0.05090 | -25% |
| 2 Months | 0.214900 | -0.06390 | -30% |
| 3 Months | 0.341200 | -0.19020 | -56% |
| 6 Months | 0.135500 | 0.01550 | 11% |
| 1 Year | 0.063800 | 0.08720 | 137% |
Factors Affecting Tixl
Tixl is still fresh but it is subject to the sentiment in the cryptocurrency market nonetheless, hence the climb in February and March when the sentiment was positive and the retreat when the sentiment turned negative, although this token didn't crash like the rest of the market. The evolution of the network will make the token more usable by participants and increase the value in time. In Q1 of 2021 the Tixl SDK was implemented which serves third party DeFi applications. The first chain integrated is BTC but ERC20 will also be integrated in the second half of 2021. More is to come, with interoperable smart contracts & dApps and possibly cross-chain liquidity pools.  
Tixl Live Chart
Tixl Price Prediction for the Next 3 Years
Tixl has a market cap of $9.747 million, with a circulating supply of 67,070,793 TXL coins and a maximum supply of 600,000,000 TXL coins. The fully diluted market cap is $87,200,815.00 with the price where it is at the moment. As we mentioned above, Tixl has quite a few plans with the cross-chain liquidity pools being a major goal to reach, but which would increase the demand for Tixl considerably. The price has been sliding lower since the end of March, and at the moment, it is bearish, but with no signs of it reaching the bottom yet. 
What is Tixl?
The number of cryptocurrencies, coins and tokens in circulation has increased tremendously in the recent years, as it seems like every developer, website or online business is issuing their own coin. Tixl was introduced in September 2020, as the Tixl Token TXL where Tixl's Autobahn Network is based as a business model. Not many exchanges list Tixl, since it is relatively new and not yet very popular, especially the major exchanges. Although there are a few that accept trading Tixl such as Uniswap (V2), PancakeSwap, ProBit Exchange and Bilaxy. 
TXL is used for payments, which the company claims are almost instant and the fees for transferring Tixl within the network are zero. It can be broadly used for covering transaction fees of other coins, trading fees, as a utility in the data platform Tixl Finance and in any other third party product. Tixl is a low energy consumption token, since it is not mined directly from the public, but it is rather rewarded to people who get involved in Tixl activities, such as liking and sharing their content. Tixl takes pride in its security and privacy, using quantum secure encryption to protect the account balance and the amount of the transactions, keeping them hidden as well for authorized service providers.
Tixl's Autobahn Network
The Tixl token was issued to be used on the native network, the Autobahn network. Tixl runs on the consensus algorithm of this network which is based on the Stellar Consensus Protocol. With cryptocurrencies becoming increasingly popular, the main networks such as Ethereum and Bitcoin are becoming congested, as many transactions go through these blockchain networks. This means that transactions become more expensive, slow and not interoperable. The Autobahn network, which is built as a special Directed Acyclical Graph (DAG), aims at taking care of this problem.
The Autobahn is a single high-performance network for all tokens with interoperable Smart Contracts & dApps, with which the company aims at bringing a new era of DeFi, payments & banking. The network has instant transactions and minimal fees for any data transfer data, not just digital currencies. The Autobahn is connected to Bitcoin, Ethereum, Binance Smart Chain or, Polkadot. It only accepts Bitcoin at the moment apart from Tixl, but Ethereum is in the final stages and DASH coin will also be coming on board soon. It basically works in the following steps:
 

You send e.g. Bitcoin to the Autobahn Network Gateway

 

The decentralized nodes hold your BTC via a Threshold Signature Scheme (TSS)

 

You transfer BTC within the network as often as you like

 

You withdraw BTC to the main blockchain, if you plan to hold it there. The decentralized nodes release your BTC via TSS
Tixl Interoperable Smart Contracts And Cross-Chain Liquidity Pools
One of the main features of the network and the Tixl company are the Interoperable Smart Contracts. At the core of Tixl is the interoperable layer 1 Autobahn network as we mentioned and in February the interoperable smart contracts were added. This offers developers the opportunity to build fully interoperable Smart Contracts and dApps for the interoperable Autobahn Network, which can also be called from any other platform connected to it, such as Bitcoin, Ethereum etc. Nowadays, many different types of dApps are running in different networks, which Autobahn aims at bringing together, since developers of a dApp want it to run in different networks at the same time and also with the same underlying token model.
Although, the problem is that different blockchain networks have different liquidity, Bitcoin or Ethereum have much higher liquidity which is difficult to use on BSC. Although with the chain agnostic architecture of Tixl, users can deploy some Decentralized Exchange (DEX) dApp, similar to Uniswap, into Tixl's Smart Contract validator network and let it use the liquidity cross-chain e.g. from Ethereum, Binance Smart Chain, and the Autobahn Network. Tixl's Smart Contract solution can be used for any type of application. When the smart contracts become available developers can build DEX with cross-chain liquidity pools. Tixl doesn't have such cross-chain liquidity pools on the Autobahn Network, but it plans to bring them on soon. Users could swap all cryptocurrencies in a decentralized way with really low fees.
Tixl Technical Analysis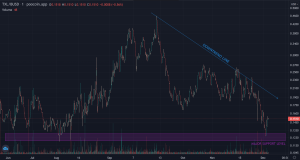 TIXL is a relatively new cryptocurrency, so there is not yet much to analyze in terms of its price history. However, based on the price action in 2021, we are able to see an explosive price rally earlier this year. This is in concurrency with the majority of the cryptocurrency market as well. And inevitably this correlation was also exhibited when the crypto market crashed last May. TIXL fell from all-time high levels of $0.80 to reach the lows of $0.12. It has since recovered slowly, as the bearish sentiment in the overall market has waned over time. TIXL rallied to over $0.40 in September this year, before correcting to the $0.20 levels as of today. 
TIXL has created a midterm downtrend line (see chart above), which could present trading opportunities if it is broken with good volume. Watch out if TIXL moves above $0.30 in the coming weeks. The overall cryptocurrency market had a short bounce recently, which could be an early sign that the selling has stopped. However, the overall bias is still negative, so it would be best to be patient and wait for further confirmation that TXL has indeed bottomed out. The recent bounce from the major support level is a positive sign that there is indeed buying demand at that level. 
Here are key levels to observe for TXL: 
$0.12-0.13

: Major support level – if the price falls below this, it would mean a further leg down for TXL

$0.28-0.30

: A rally to this level could mean a breakout of the downtrend line 

$0.40

:           First major resistance level 

$0.60

:           Second major resistance level 

$0.80

:           All-time highs 
Each rally above key resistance levels  strengthens TXL's bullish case. On the other hand, if the price is rejected at these levels, it could mean further consolidation and correction to previous support levels.