<% (signals.list.current.rate).substr(0,9) %>
<% (signals.list.current.absolute).substr(0,9) %>
(
<% signals.list.current.percentage|toFixed:2 %>
%)
DAI/USD Signals
ACCESS ALL FX, COMMODITIES & CRYPTO SIGNALS.
GO PREMIUM
Entry Price
Stop Loss
Take Profit
<% signal.stopLoss %>
N/A
<% signal.takeProfit %>
N/A
Description
<% signal.description %>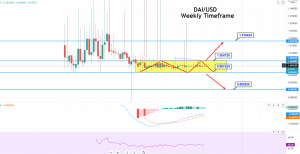 Dai (or DAI) is a stable cryptocurrency coin that seeks to maintain an exact ratio of one-to-one with the US dollar.
Full Article
Ethereum-based stablecoin DAI is issued and developed by the Maker Protocol and MakerDAO. It gives businesses the benefits of enabling digital transactions without worrying about the high levels of volatility that cryptocurrencies are known for. The value of DAI is soft-pegged to the US dollar, with 1 DAI equal to around 1 USD. One of the biggest strengths DAI offers as a stablecoin is that it is managed by a DAO and not by a private company, using a software protocol. Issuance and burning of Dai's tokens are managed and recorded using Ethereum-based self-enforcing smart contracts, which enjoy the benefits of blockchain's immutability, transparency and decentralization. This makes DAI as an offering far less prone to potential corruption or unwanted manipulation. 
The fully-collateralized stablecoin is native to MakerDAO, Maker's decentralized autonomous organization, giving users and investors the option of crypto-native hedging without the challenges of extreme volatility and unpredictability. The Dai coin can be used for lending, for making digital payments across the world in a cheap and fast manner, in prediction markets and for customers to purchase goods and services from businesses. As of November 2021, the Dai stablecoin has been integrated across over 400 apps and services, ranging from wallets, DeFi platforms, games, and more. 
Dai Breakdown
Based on Ethereum, the DAI stablecoin's key strength is in its soft ped to the price of the US dollar. This ensures that its price remains stable despite prevalent high levels of volatility in the cryptocurrency market, which affect not only the smaller coins but impact market leaders such as Bitcoin and Ethereum despite enjoying high levels of liquidity. 
Instead of being backed by US dollars in a bank account, DAI is backed usibng collateral on the MakerDAO. This means that any changes to the Dai credit system can let Dai holders convert their tokens to ETH using Maker's platform.
What also works in Dai's favor is that it is managed by a decentralized autonomous organization (DAO) instead of a centralized, private company. This offers it higher levels of transparency than other popular stablecoins in the market, especially Tether (USDT). The issuance and burning of tokens are all managed and publicly recorded by self-enforcing smart contracts on Ethereum's blockchain, increasing the level of trust in Dai among users. The governance of DAI also offers higher levels of democracy as regular participants can vote directly to influence changes to Dai's ecosystem. 
Dai History
MakerDAO was founded in 2014 by Danish entrepreneur Rune Christensen. The MKR native token for the Maker ecosystem was launched in August 2015, which served as the basis for the governance of the Maker protocol. The original stablecoin SAI was deactivated to pave the way for the DAI's final version in December 2017. 
Dai and associated smart contracts officially launched on Ethereum's mainnet during this month. Within its first year of launch, DAI's price was maintained to hold close to US dollar, keeping its value even as ETH went through a crash and lost over 80% of its value during the period. 
Leading venture capital firm Andreessen Horowitz announced a $15 million investment in MakerDAO through the purchase of 6% of all MKR tokens - Maker's native token in September 2018. The multi-collateral DAI was launched in November 2019, after which it experienced considerable volatility at the beginning of the COVID-19 pandemic in March 2020. During this period, DAI went into a deflationary deleveraging spiral which caused its value to spike to 1.11 against the USD. However, soon after, the value stabilized back to maintaining the soft peg. 
Dai Price Factor
As a stablecoin that attempts to maintain its price as close to the US dollar as possible, the DAI rate sees very little fluctuation, especially when compared to its more volatile peers in the cryptocurrency market. However, occasionally, the DAI price does experience slight moves against the US dollar owing to its soft peg status. 
In the past, there have been instances when DAI's price has fallen under $0.90 or risen past $1.10. Although, the smart contracts responsible for managing the stablecoin's soft peg status quickly react to counter such fluctuations within the MakerDAO ecosystem. 
The DAI rate can experience slight changes based on supply and dmeand - when supply is high but demand remains low, the DAI price can stay under the $1 mark, and vice versa. For instance, in September 2020, DAI touched an ATH of $1.14 while its ATL saw its falling to $0.8935 in June 2021. 
Trading Dai
If you wish to trade DAI, it would help to note that it experiences extremely low levels of volatility and price action, thus reducing your profit margins on successful trades. The first step to trade the Dai stablecoin involves spending time on researching how the overall crypto market works and the role stablecoins play in the market. 
You can then find a reliable crypto exchange or broker that lists DAI among their offerings and register an account with them. Upon successful registration, you can proceed to convert your trading capital from fiat currency to purchase, sell or exchange DAI based on your technical and fundamental analysis. 
As Dai is backed by other cryptocurrencies, you can keep an eye on news related to its adoption, technical developments, market sentiment towards cryptos in general and even news about regulations towards the asset class before entering trades in DAI. 
What is Dai?
Dai is a stablecoin backed by other cryptocurrencies and enjoys a soft peg to the US dollar. Governed and maintained by decentralized autonomous organization MakerDAO, the ecosystem uses automatic smart contracts to keep the DAI rate as close to the US dollar as possible. It offers a safe, stable way to transact in digital currencies without worrying about high levels of volatility.
How can I trade Dai?
To start trading Dai (DAI), you need to open an account with a reputed crypto exchange or broker which offers the stablecoin among its instruments. You can then convert your trading capital from fiat currency and use it to buy DAI, holding, selling or exchanging it with other available fiat currencies, cryptocurrencies and stablecoins on the platform based on your fundamental and technical analysis of the price action.
How can I store Dai?
You can store your DAI coins in a hardware or software wallet based on the level of security and convenience that suits you. Some of the popular wallets that support DAI include MetaMask, Coinbase wallet, MyEtherWallet, Trezor, Ledger and Gnosis Safe.
What can you buy with Dai?
Dai can be used to pay for goods and services, cover business expenses, make donations to charities, in addition to being used as an investment or for lending and saving purposes. It can also be used to make in-game purchases online, buy gift cards, pay bills, share expenses and more.
Is it legal to buy Dai?
The purchase and exchange of cryptocurrencies, including Dai, is are legal in most parts of the world. However, some countries have banned cryptos due to their extremely unpredictable nature and lack of regulations. Please check the latest news and developments regarding the legality of buying cryptocurrencies in your country of residence before purchasing DAI.
Is Dai regulated in the UK?
Cryptocurrencies do not have an exclusive regulation yet in the UK but are overseen by the FCA. Recent regulations require crypto businesses to register with the authority before starting operations. However, do note that regulations are subject to change. We recommend that you find out the latest regulations in the UK before buying and trading Dai.
What are the risks in trading Dai?
While the stablecoin Dai comes with far lower levels of volatility than other cryptocurrencies, it is subject to its own set of additional risks. Several governments have called out the concept, stating that they have the power of destabilizing mainstream economies and could consider tighter regulations or bans on stablecoins. Such regulations can impact the future outlook for Dai, so it is wise to trade this stablecoin only after being updated on all the latest developments in this space.