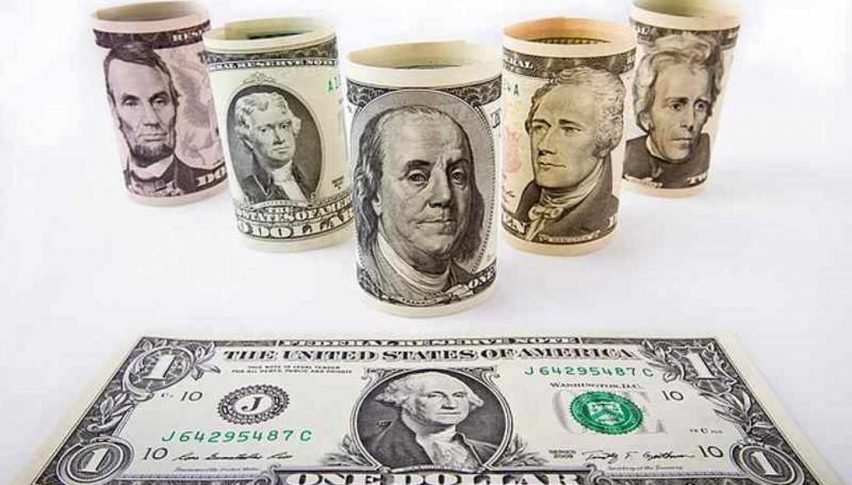 FED Watch: March Rate Hike Probable For USD
Posted Wednesday, February 14, 2018 by
Shain Vernier
• 2 min read
The U.S. CPI metric is the big surprise of the day, with numbers coming in above expectations. This morning's report of 2.1% eclipsed the projected 1.9% and has suggested that inflation is on the horizon. As a result, the U.S. indices are off moderately on the cash open and the USD is losing ground against the Euro, British pound, and Japanese yen.
A prominent theme across the markets is the U.S. Federal Reserve (FED) adopting a policy of tightening sooner than expected. Earlier in the session, rates on the 10-year Treasury Note spiked to challenge multiple year highs on concerns of a coming March rate hike. Get ready, because "inflation" is going to be the word on everyone's lips until the mid-March meeting of the FED.
Today's Metrics
Here are several of the key metrics from earlier:
Event                                                 Projected             Actual
CPI (MoM)(Jan.)                                       0.3%                     0.5%
CPI Ex Food & Energy (YoY)(Jan.)       1.7%                      1.8%
Retail Sales (MoM)(Jan.)                        0.2%                    -0.3%
Normally, I don't place added emphasis on a specific collection of metrics. However, these three numbers jump off the page given the current financial environment. A growing CPI on the monthly and yearly scale suggests the presence of inflation. Conversely, a drop in Retail Sales injects overtones of consumer skepticism.
Add it all up and there is a disconnect that is likely triggering alarm bells at the FED.
Overview
So, is the U.S. consumer tightening their belts and padding the savings account? Does lagging Retail Sales coupled with higher pricing equal a run to bonds and CDs?
The data suggests this conclusion, but I highly doubt its relevance. If anything, these numbers are a product of the "holiday hangover." It will be a surprise if this trend continues, especially with the new injection of capital from the Trump tax cuts slated to come online later this month. While inflation may continue to approach 2%, Retail Sales are likely to grow as well.
On a side note, the CME FedWatch index is currently estimating an 83% chance of a March 21 rate hike for the USD. If this sentiment takes root, the USD may be poised to exhibit strength in the coming weeks.