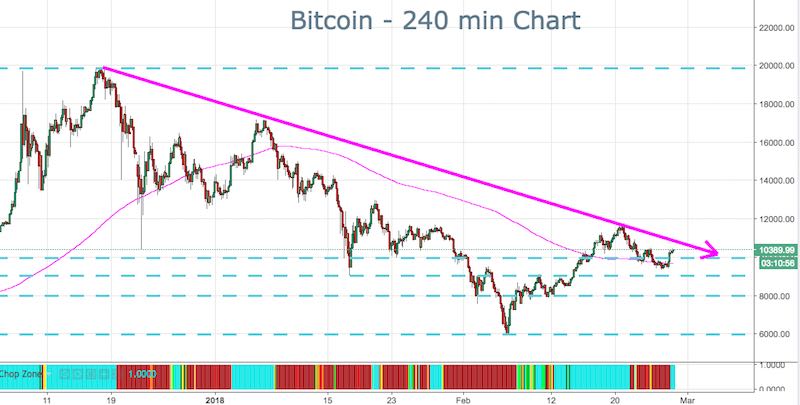 Bitcoin (BTC) Pokes its Head Above $10,000: The Downtrend is Still Alive
Posted Tuesday, February 27, 2018 by
Rowan Crosby
• 1 min read
Yesterday, I mentioned that Bitcoin (BTC) investors were in for a nasty surprise as the IRS was coming for their profits. That news seemed to rock the crypto market and there was some broad-based selling.
However, on Monday, prices recovered somewhat and Bitcoin once again survived the dreaded break below 10,000.
Bitcoin (BTC) Holding Support: For Now
10,000 continues to be a huge level. We are currently rotating around and haven't managed to push far in either direction.
The main concern for me is that if we break we are looking at a sustained move to firstly 8000, then 6000. 6000 would represent a 50% fall from where we were trading only last week.
The other area of concern is that the downtrend is still well and truly in place. Looking at the chart you can see that we are making lower highs and that we continue to grind our way down.
The bottom of the range is 6000, as mentioned, which doesn't make for pretty viewing if you're an investor. For traders, that means there's opportunity.
The first target we need to focus on is 10,000. If we break that then we can start looking for more downside. 10,000 then becomes resistance. I'm bearish on Bitcoin (BTC) at the moment and I am expecting a move to 8,000.
BTC/USD – 240 min Chart.